The great and powerful Jessica McHugh has challenged herself and other authors to write a story a week through 2014. Check out her progress and others in the challenge. This blog post will be where you can follow my progress. I'm going to use it as a self-motivator as well.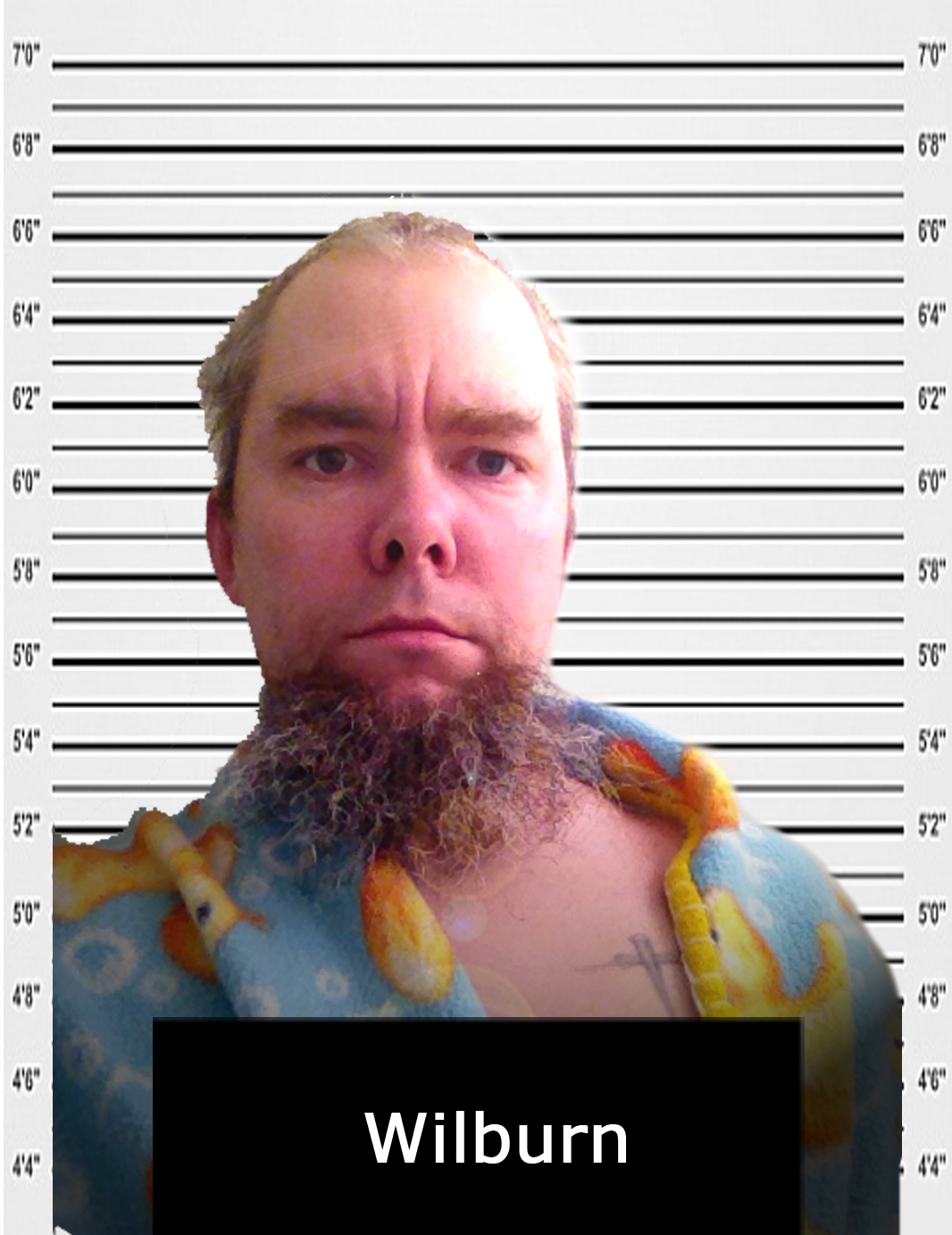 Ray Bradbury is credited with the theory that if you write a story a week for a year, you can't possibly write 52 bad stories in a row. We'll see.
In addition, I'm organizing my writing on a four day cycle: Short story day, Novel day, Extra projects day (ie interviews, articles, guest blog posts, odd writings, etc.), and a flex day (projects with the nearest deadlines, something new or different, etc.). We'll see how it works out. Encouragement is encouraged.
#AStoryAWeek !!!!!!
Week 1 (Jan 1-5): "Catch and Release" (a redneck fairy story) Submitted "Pioneer" to a contest (near future sci fi). Chapter 7 of Threads (coauthored novel in progress) Completed interview of Max Booth III for Vomit Metal Blah. Edited and submitted "Ratman." Edited and submitted "Amalga Man." Edited and submitted 7 drabbles to a speculative fiction site. Wrote just over 3600 words on the novel Battle of Wood and Bone. Wrote an article for the next Dark Eclipse ezine. Wrote an essay for the Bukowski tribute site. Completed my first Dark and Bookish video diary entry. Edited and resubmitted "Divergent 27."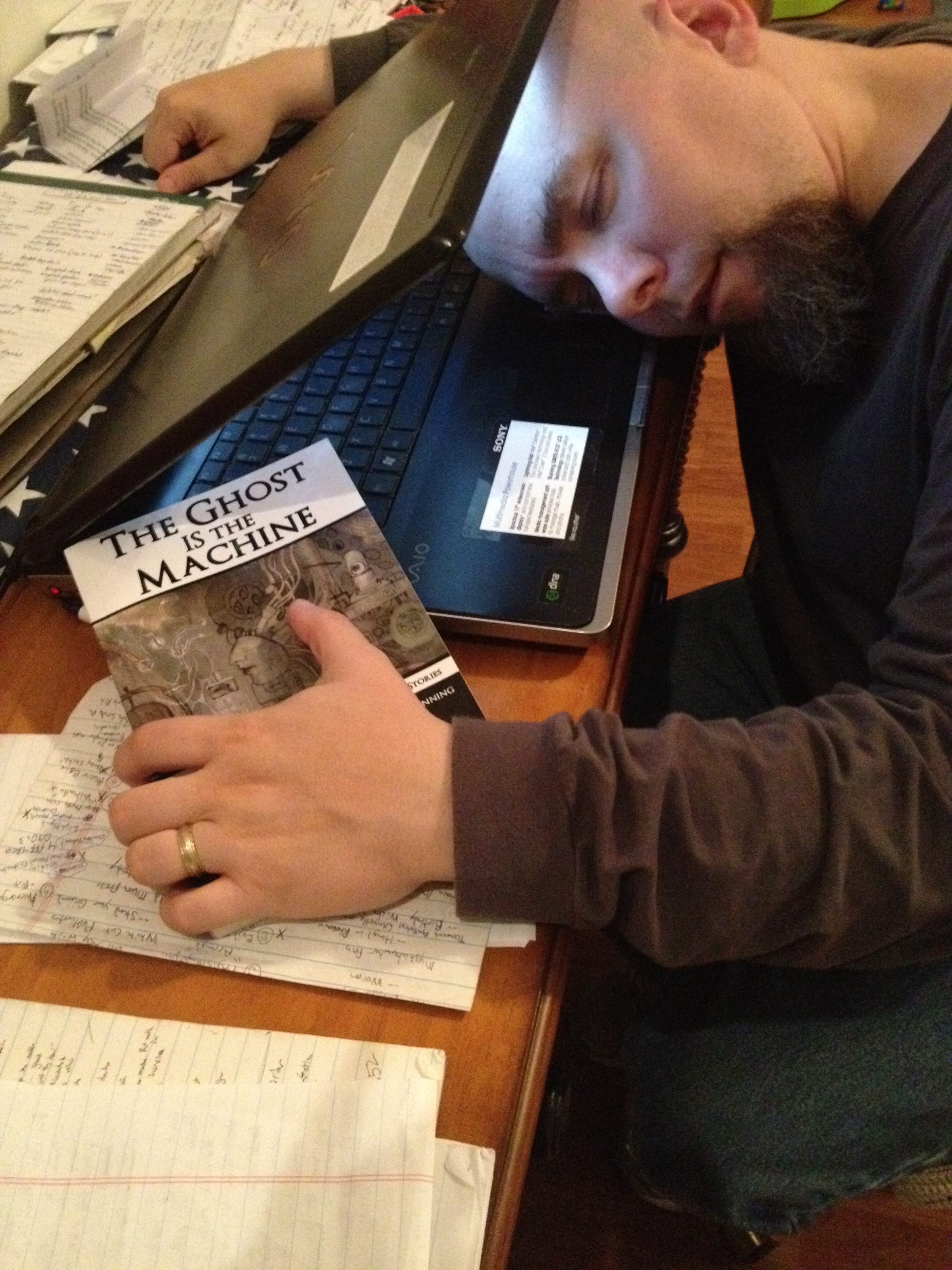 Note: Week two will include a #24HourWritingChallenge on Wednesday, January 8th thanks in part to Armand Rosamilia. Should this lead to my death, I would like him to be held partially responsible under "cause of death."
Week 2 (Jan 6-12): I completed "Back Acres" for an invitation call.
Here is a video of me typing the rewrite of that story. Literally, this is me typing this story. Fascinating performance theatre, yes? No? Maybe so?
3500 words on Cannibals in Space novel. 1500 words on Bizarro Cross Genre interpretation of the Bible. 1000 words on a new novella "Under Muddy Water" an epic underworld adventure.
"Lily's Garden" A Lesbian Mad Scientist Story … far more literary and emotional deep than it may sound by the description. I submitted it to a pro pay market, so here is hoping!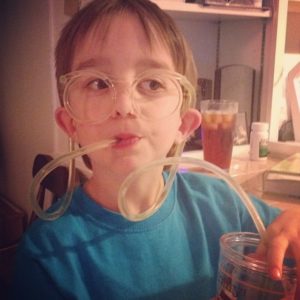 Even small victories should be celebrated. My son demonstrates with straw glasses.
Week 3 (Jan 13-19): CAREER DAY THIS WEEK!!! "Zombie Author" being accepted as an actual career?!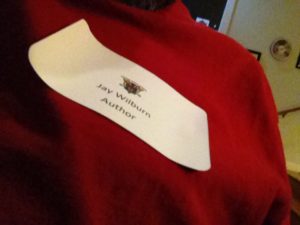 Once you have it on a career day nametag, it is real!!!
"Soothe" is about a music therapist on a space station above a dangerous planet. Reworked "Unfounded" and submitted to a charity anthology call. This one was zombies and time travel. "Swamp Shadow" completed for a call for 1 part magic, 1 part local, and 1 part science. "Still" follows a hearfelt romance in a medeval castle invaded by aliens.
Wrote 3550 more words on my underworld novella. All this on a week when I was particularly sick. I'm feeling some better now.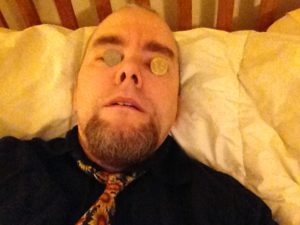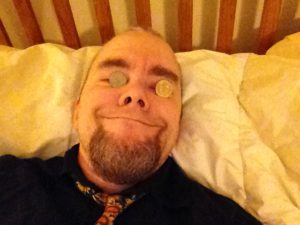 Week 4 (Jan 20-26): 1500 words on Cannibals in space novel.
Oh snap, they called another #24HourWritingChallenge on Thursday, Jan. 23rd. Despite a doctor's appointment, I will, of course, participate. It was nice knowing you all. Tell the world I was a writer and my stories were worth reading.
Completed "Under Muddy Water" my 18,000 word novella about the underworld. Resubmitted "Ratman" to a new invitation market. Edited chapters 7 and 8 on a coauthored novel in progress. I completed "Holding Back" and submitted it this week. Completed "Adrift" a Steampunk Romance Story.
Week 5 (Jan 27- Feb 2):
I reworked and submitted "Big Girl," "Back In," "Rip," and "Imperfection." I wrote two columns and 500 words on a novel. I completed edits on "Halfway." I started a paranormal romance novella called "Autumn's Need" and got about 3000 words into that.
My new story completed this week was "Stranded."
via Jessica McHugh –WOW!! YOU JUST WROTE FIVE STORIES! GOOD ON YOU!! KEEP IT UP!
As we enter February, maybe try changing up your genre or perspective. If you're used to writing dark fiction or horror, why not give something lovey-dovey a try. Or at least make some people ****. 😉 If you're a third person omniscient writer, try writing limited, or maybe even second person! Change it up this month! — Jessica McHugh
Week 6 (Feb 3 – Feb 9) —
Got a few rejections this week. Feeling a little deflated. This week I did complete "No Life on Mars." I started a YA story and got about 500 words in. And I completed nearly 8000 words on a paranormal romance.
Week 7 (Feb 10 – 16) —
Moving houses is getting in the way of writing.
I worked on the novella "Autumn's Need" and a YA short story "First Day." I did not finish a story this week, so hopefully my more productive previous weeks will make up for this sin. I'm still in the process of moving, but hope to get more writing done too. We'll see.
Week 8 (Feb 17 – 23) — Still moving.
I reworked and submitted three old stories, but wrote nothing new. 🙁
Week 9 (Feb 24 – March 2) — Moved into the new house. Unpacking boxes, but getting back into writing routines.
Reworked and resubmitted "Swamp Shadow." Made progress on the novella "Autumn's Need," but did not finish.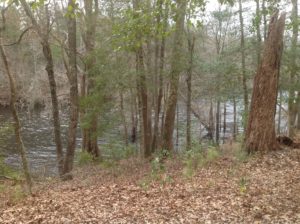 With a view like this, I should be more productive!!!
Week 10 (March 3 – March 9) — I HAVE TO GET BACK ON TRACK!!!!!!!
Completed the paranormal romance novel "Autumn's Need" at about 15,000 words. Finally!!!
Week 11 (March 10 – March 16)
Completed the new stories "Gossips" and "First Day" and submitted them both to pro markets. I reworked and submitted "The Night of the Mulleted Vampire Slaying Brat Packers" and "Revere." I even got a few acceptances this week. I'm back!!!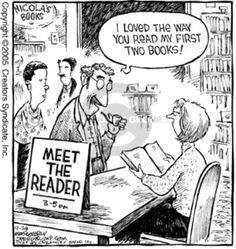 Week 12 (March 17 – March 23) I completed the stories "Order of the Metal Feathered Guardians of the Night" and "Sure Thing." I reworked and submitted the flash fiction piece "Unfinished." I even ghost wrote/ freelanced over 13,000 words.
Week 13 (March 24 – March 30) Completed the story "Protest" in a completely new genre for me.
I also did ghost writing for a Pokemon story. That's right. Semi-pro rates for Pokemon. I came close to finishing a sci fi piece that is shaping up well, but that will have to be an early finish for next week.
Got a few contributors copies in and a few acceptances including a piece that will be in Best Zombie Fiction of the Last Few Years. I really can't wait to see how that turns out. I'm hoping to be up there with a few big names of authors I have read over the years.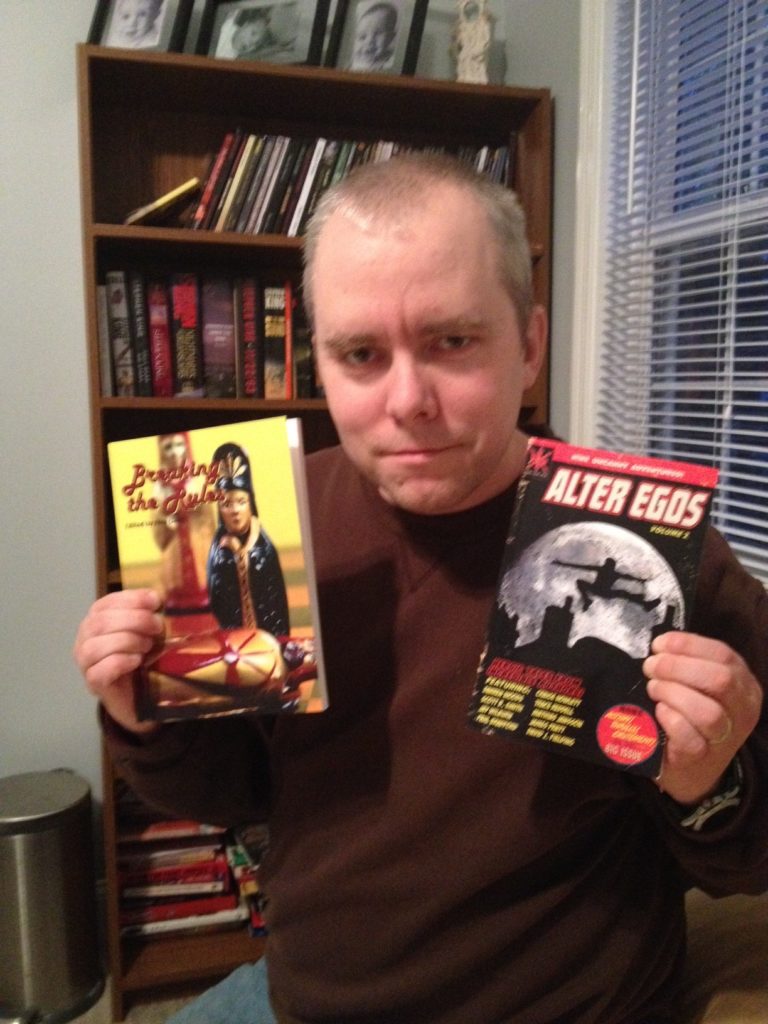 Week 14 (March 31 – April 6) Completed the sci fi story "Floodgate"
Week 15 (April 7 – 13) Reworked an apocalyptic flash fiction piece "Respect." Completed "Under."
And I turned 40.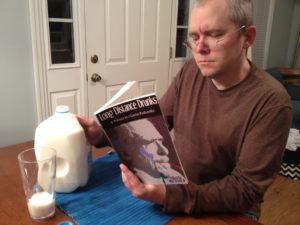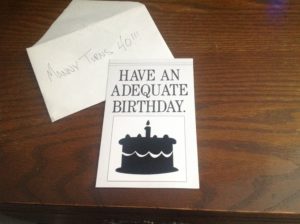 Week 16 (April 14 – 20) Completed a sci fi piece by the name of "Strawberry."
Week 17 (April 21 – 27) Got caught up in freelance work this week and didn't finish my own story. I'll have to be creative to get it done next week too. I might have some catching up to do in another week.
Week 18 (April 28 – May 4) Lots of freelancing work, but nothing creative. I did make my rent for the coming month.
Week 19 (May 5 – 11) Still a heavy freelance week. I did ghostwrite a steampunk story for a client that I think went fairly well. Next week is going to be heavily focused on progressing on a novel ghostwrite.
Week 20 (May 12 – 18) Still Freelancing.
Week 21 (May 19 – 25) Still … freelancing …
Week 22 (May 26 – June 1) HA! I bet you thought I was going to say, "still freelancing." Well, I am, but I managed to finish a story in my own name AND I did so during a week when I had to have a heart procedure performed. Since I had a needle stuck in my heart and I'm still alive, I like to think of myself as more powerful than a vampire.
Anyway, the story I wrote was "Our Little Bundle of Omnipotence." It is set in a world where religion never developed. A couple gives birth to God and while they are dealing with that trouble, the father comes to realize that his wife may have been having an affair with his old college roommate now a reality star, The Universe.
In addition, we have kicked off the 2014 Summer of Zombie Blog Tour. 33 authors or rotten zombie goodness for the entire month of June #summerzombie — Giveaways and all sorts of fun. I thought we should have fought to the death, but my suggestion was rejected.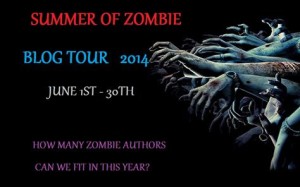 My first official post with the Summer of Zombie Blog Tour goes live on June 2nd and my first giveaway will hit then too. I'm giving away six signed books.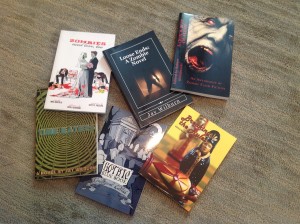 Week 23 (June 2 – 8) Freelancing
Week 24 (June 9 – 15) Freelancing — Completed a ghostwritten novel about Charlemagne.
Week 25 (June 16 – 22) "Ice Race" I actually completed a story of my own. It is a Lovecraft other world tale. I submitted a few other trunk stories as well.
Week 26 (June 23 – June 29) Freelancing
Week 27 (June 30 – July 6) Thanks to Armand Rosamalia calling me out on a 24 hour writing challenge, I actually finished a story. "It Fell on Oleander" has been waiting to be finished for some time now. I'm also moving on an old novel that just became an alien invasion story where the aliens convert to Christianity and things get really crazy!
Week 28 (July 7 – 13) Completed my Dieselpunk story "March of the Southern Veterans of the Smoked Choked Fields." Also this week, my novella collection ZOMBIES BELIEVE IN YOU was released. Not a bad week.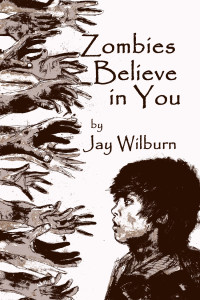 Week 29 (July 14 – July 20) I came close, but needed an extra day to finish.
Week 30 (July 21 – July 27) Completed "Ice Goblins from the Thrill Bop Comet"
Week 31 (July 28 – August 3) Completed "Plague of Children" early in the week.
Week 32 (August 4 – August 10) Completed "Apart" for the Elektrik Milk Bath motorcycle call.
Week 33 (August 11 – August 17) Completed "Sock Hop on Venus."
Week 34 (August 18 – August 25) Didn't quite finish this week. Submitted a few older stories.
Week 35 (August 26 – August 31) Completed "Daddy Elvis and the Last Job" for an Elmore Leonard tribute call.
Week 36 (September 1 – September 7) Completed "Multiplayer Intruders, Interlopers, and Ne'erdowells Cheats and Tips" If I counted correctly, I've actually completed 28 stories so far this calendar year. I'm about 8 short of ontrack for the challenge.
Week 37 (September 8 – September 14) Completed "Mission"
Week 38 (September 15 – September 21) Imaginarium Convention Week
This should be interesting.
Week 39 (September 22 – 28) Freelancing
Week 40 (September 29 – October 5) "Retreat" Military Werewolf story
Week 41 (October 6 – 12) Ghostwriting
Week 42 (October 13 – 19) Ghostwriting
Week 43 (October 20 – 26) "Cigarette Burns"
Week 44 (October 27 – November 2)
Week 45
Week 46
Week 47
Week 48
Week 49
Week 50
Week 51
Week 52