by Jay Wilburn
The plan is to reread all of Stephen King's works in the order that they were published. Richard Chizmar of Cemetery Dance had the vision. I'm doing it because I am a writer and I want to improve my long fiction. I think there is something to be learned through this challenge. As Richard Chizmar and Bev Vincent put up their posts on the official site, I will link those in the corresponding ones of mine on this blog, typically with the "After" posts.
You can go back and read the previous post After The Dead Zone or go back to the beginning for Before Carrie to follow them all through.
The next piece is Firestarter.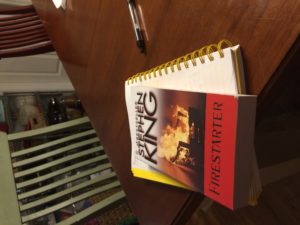 This is the first King book in the chronology which I have never read. This should be fun.
I had thought it was The Dead Zone, but I was wrong. This time period includes some books I missed entirely as I picked up on King late. Firestarter slipped through the cracks. I didn't draw to it. No one mentioned it as a favorite or one I needed to check out. As I drove forward to grab the latest King releases, I never went back to try this one. If it wasn't for Stephen King Revisited, I maybe never would. It makes me sad to think of how many books I'll miss out on in the short life we all have under the best of circumstances. Even rereading King takes from other authors I could and should be checking out. Life is too short to regret that we can't read everything. So, I'm reading this now.
I have some, but not a complete idea of what is in store. An exciting moment for me as a King reader.
Let's set the world to burn, shall we?
It's time for Firestarter. I'll post my After Firestater post once I am finished.
#StephenKingRevisited