The plan is to reread all of Stephen King's novels. Richard Chizmar of Cemetery Dance had the vision. I'm doing it because I am a writer and I want to improve my long fiction. I think there is something to be learned through this challenge. As Richard Chizmar and Bev Vincent put up their posts on the official site, I will link those in the corresponding ones of mine on this blog.
This is my After Salem's Lot Post.
But now it is time for THE SHINING.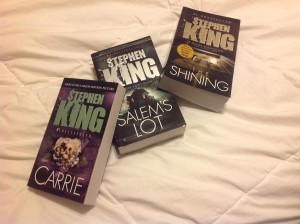 These posts will all strive to be spoiler free while still going in depth into what I learn from the experience in a way that will hopefully be interesting for those that have read the books. Even still, be warned that I am discussing the content and the writing of the books in these posts.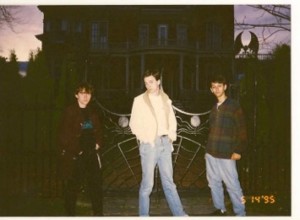 I started reading The Shining the first time in college in 1995. It was the summer right after finishing my junior year and starting an ill-fated summer job stocking shelves at Wal-Mart in Rome, Georgia, United States where I was going to college. A group of us took a road trip up the east coast. We hit Richmond, Baltimore, New York, and Maine before coming back. While in Maine, we swung by THE HOUSE of THE KING. Now he has an office nearby that he visits about once a month. He is not in the house much now, but people go by for pictures of THE GATE. In this picture above is myself on the left, Brandon O'Dell in the middle, and Jason Fordham on the right.
We were all Stephen King fans. This was before the height of the Internet and GPS, so we had to come by these directions through research and sweat. We almost didn't find it and it was dark by the time we took the pictures.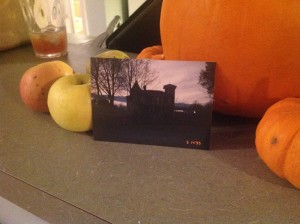 It was Jason Fordham's copy of The Shining I was reading and finished that summer as I roomed with him in a house we rented. I walked to Wal-Mart at three in the morning and we scraped together groceries waiting for school to start again for us to go back on the meal plan with the money and scholarships we earned. Jason was dealing with his own secrets that summer too.
Jason died recently after a prolonged, but lively battle with cancer. He lived out the days of that fight on his own terms as best as he could and as well as I have ever seen.
He is also the one that first introduced me to the Romero zombie movies. That could be counted as life changing in my case, I suppose.
Brandon O'Dell is still my friend. We have witnessed each other through some very tough, dark times. He may be one of the smartest, most well-read people I know. He also played Bobby Eagleton in the film version of The Mist.
This is what we did in the middle of my reading of The Shining and this is who I did it with. I had forgotten it was that summer until I started into this #StephenKingRevisited project.
I love the movie and the book. They are pretty much different universes playing out a similar story. The book scares me more. The movie is great by just about any metric, but the book is better, in my opinion. There are scenes in here that build fear in me just thinking about them coming back up on the page again. I've heard King express the same thing as he recalled writing it.
I have not read the recent sequel Dr. Sleep yet, but if I live long enough, I will get there.
It is time to stop stalling and to start reading THE SHINING.
Join me as I go.
Here is my After The Shining Post
I'll keep you posted,
#StephenKingRevisited
— Jay Wilburn, writer