I'm doing a more complete article on this experience for the Dark Eclipse ezine in a future issue, but wanted to share some of the audio.
The school where I used to teach invited me back in January for Career Day. It is odd to quit your job and then be asked to come back there to talk about your career. Also, I'm concerned that the public school system considers "Zombie Writer" to be a valid career.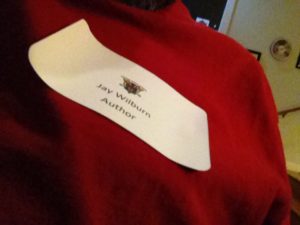 I was not allowed to film and I wanted to sneak some film, but the administration was watching me. You can't be too careful bringing someone that quit back into the building to talk to your clients. So, I managed to get audio on the IPad, but couldn't actually film.
I gave my talk four times and recorded various sections in clips. Some were hard to hear because I was answering questions and none of the kids could really be heard well. Other times I was too far away and couldn't be heard. I have one section where I'm talking about websites and pictures on a screen so, that did not translate well to audio. I did include three of the better clips and uploaded them to YouTube like mini podcasts.
In Part I, I introduce myself and talk about the job of writing.
In Part II, I talk about how I started writing and how I improve at it.
In Part III, I get all inspirational and talk about following your dreams. Oh, you will be moved. Be ready!
I hope I enlighten you on the career of writing and how to live your life. You are welcome. Happy Career Day!!!