by Jay Wilburn
Derek Ailes returns to the blog tour with his superhero satire universe in full swing with The Undead Pool: Dawn of Injustice. He mixes zombies with a send up of the superhero universes we all know and love and probably have to admit are ripe for parody and sometimes ridicule. Derek Ailes has made it his mission to take on these pop culture tropes with humor and satire.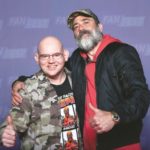 Readers may want to begin with the first book in this new universe and then continue through Injustice into what is shaping up to be an ongoing series. Ailes says he has a never ending supply of characters to make parodies of. In each forthcoming book, he'll expand the universe even further. He also teases that he has a few characters in the works who are not directly based on any of the established heroes from other universes. This promises great things to come for readers of this new metahuman universe.
Derek Ailes has always written his stories with a humorous twist. He's tried to write straight horror without humor as a strong element, but he never really felt those stories expressed his voice and his full potential as a writer. There is so much he has observed in movies and television worthy of making fun of. He takes in movies multiple times a week and always finds things which scream to be parodied.
I believe Derek Ailes really came into his own and found his own voice while writing for the horror anthology Journey Into the Unknown. In that anthology, he wrote a story about two freegans (dumpster divers really) who encounter a dumpster infected by a serum from an escaped lab rat which turns the freegans into strange creatures. Ailes tells me it was a tribute to the Re-Animator series and may be the first story of his which really expressed his warped sense of humor. From then on, Derek Ailes tells me, there's been a twistedness to his stories.
After a little prodding, Derek Ailes gave me some previews to share of what he has coming up. He is currently working on The Undead Pool 3: Multiverse which will parody The Flash season 2, Highlander, Beauty & the Beast, Logan, and others for starters. And, of course, there will be zombies along with a zombienado and "lavalantulas" to boot.
At the same time, he reveals he is working on his first science fiction novel based on a series he had been writing from 1985 through 1996. He's promised readers he'd take on that series for a while, but now he is finally tackling it, so we all have that to look forward to. He's hoping to have that one out by November with the newest Undead Pool coming before the end of the summer.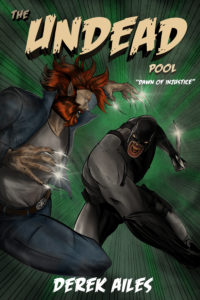 I hope I have made the case for Derek Ailes and his writing. If you want to know more about Derek Ailes and his work, check out any of the links above or check out this earlier "Case for Derek Ailes" post from an earlier tour. There are great insights about him and links to other work you can check out too. Pick up The Undead Pool: Dawn of Injustice or begin with book 1.