This is my Imaginarium wrap-up post. I'll get to the confession portion soon, but the majority of the post will be a list of suggestions for next year in the form of complaints.
10) That Tea Cup Convention Next Door to Us was Especially Creepy.
Seriously, their intensity about tea cup collecting made me reevaluate my life and I did not like what it told me about myself. Should I be collecting tea cups? Will I be that randy and cool when I get to be ninty to a hundred like their target audience? As a horror writer, what does it say about me that I can't be creepier than the tea cup fans? I don't want to think this much and this deeply. Either invite them to Imaginarium to teach me their ways or run them off with pitchforks. I still can't stop seeing those tea cups!
9) The Buffet at the Awards Ceremony was too Good.
Next year everyone is going to want to come. The lines will be longer and people will be talking to me while I'm trying to make my fifth trip through. Either tell everyone the food was terrible or put tickets on sale now, so I can buy out several tables.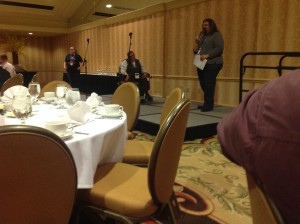 8) I Don't Know Where to Hide a Body in Louisville.
So after the Masquerade, I wake up next to an elf I don't recognize. My hotel room is trashed and there are arrows everywhere. I try to sneak out, but then I realize that elf is dead. He has no identification on him. Where I live, there is plenty of swamp, woods, and ocean to hide a body. Sometimes you dig up one trying to bury another. Louisville is full of nice neighborhoods. It is like you don't even plan for body disposal. The hotel isn't designed well for sneaking out with a "large bag." I'm driving all over town. I finally just stood him up on a creepy corner at a bus stop. I almost missed my last panel washing all the elf stank off myself. I blame site scouting and planning for this. Why such a nice hotel in such a nice city? What exactly are you trying to prove?
7) There is a creepy bus stop with a bunch of weird people and a dead elf propped up.
6) We Need a New Hastag for Next Year.
#JayWilburnIsAwesome may not have two years in it. I think everyone caught on that I was as big of a jerk as the hashtag implies or I disappointed all the fans. Something more related to Imaginarium itself might be good.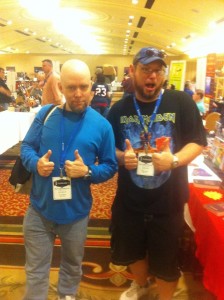 5) We Need To Be Farther Away from Florida.
If for no other reason, we are not far enough away to discourage the likes of Armand Rosamilia and the element he encourages. If we insist on remaining within driving distance, then we should at the very least ban jean shorts.
4) The Staff and Vendors Were Too Nice and Helpful.
This gives new writers a false impression about the nature of conventions and publishing. Staff needs to not solve every problem to the best of their ability. Be slower to answer e-mails and don't be open to suggestions. The vendors need to be more rude and stand-offish. If this "good vibe" continues next year, we could really have a problem on our hands.
3) I Learned Too Much Valuable Information.
This job was easier before I knew the things I should be doing. It is really a lot of pressure to know new and better ways to work as a writer. Maybe be less informative next year.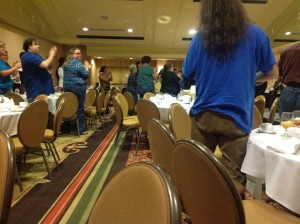 2) I Met A Lot of Great, New People and I Don't Like People, Things That Are Great, Nor Anything New.
1) I've Already Been Invited Back.
I will have to say yes because it was such a great event. I have no choice but to say yes. I'll be a better person and writer for attending again. My entire reputation is based on being bad and a worse person.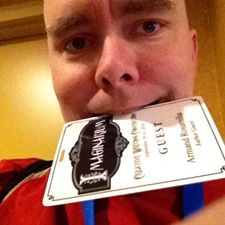 Despite all of these valid complaints, I did have a great time. Books with my name on them sold to people that read words. I learned a lot from the panels and was challenged by other authors in my playground and the playgrounds around mine. I look forward to an even bigger and better convention next year. I was happy to be a part of the first year which has already opened new opportunities for me next year.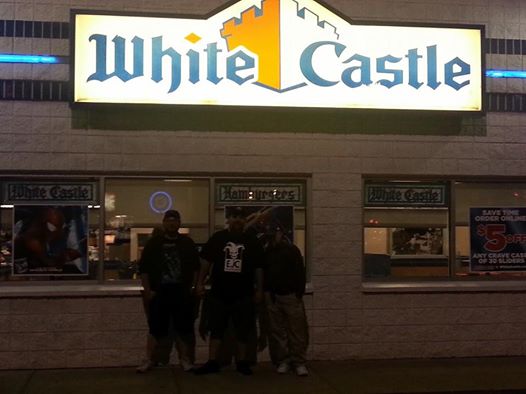 NOTE: ALL REFERENCES TO MURDER IN THIS POST WERE FOR SATIRE. NO ELVES WERE HURT IN THE MAKING OF THIS POST … or were they? NO, THEY WERE NOT … or were they? NO, I SAID NO. NO ONE MURDERED … that you can prove anyway. STOP IT !!!