by Jay Wilburn
My zombie series is the Dead Song Legend. It is based off a short story which first appeared in an out of the way charity anthology that wanted weird zombie stories. The short story had a character with no name that does a voiceover in a sound booth for a documentary about music and music collectors during the era of the zombie apocalypse. It was selected for Best Horror of the Year volume 5 by editor Ellen Datlow. It was reprinted again in Zombies: More Recent Dead by Prime Books. I ended up breaking out the story into a novel which quickly proved to be the outline for a twelve book series. I'm on book 4 as of the writing of this blog post.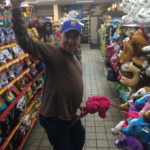 We did some music in the form of live radio plays from the pages of the books. There is the music, lyrics, ambient noises, and dialogue as if from the world and the music described in the novel. Here is one of the songs set in a church surrounded by zombies in Mississippi. Here is another on a rooftop in a zombie infested city. Here is one in a battle between human armies vying for control of the future of the nation.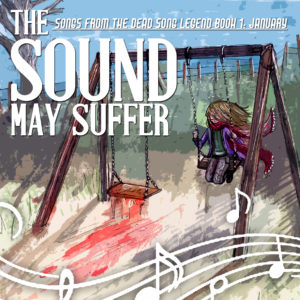 The series was a slow build. I attended conventions as books 1 and 2 came out. I had trouble moving them. Book 3 came out and then I was selling all three books in the series where I had trouble moving one book before. It demonstrated for me the power of a series. It also told me that I needed to get moving on book 4.
The story features two gay male characters as some of the primary leads. One of the men also has a second identity as a drag queen performing at bars across the country during the zombie apocalypse. Maybe not the characters that appeal to all zombie fans, you might say. The first line of the first book is: Donna Cash tucked her dick away, keeping it from bulging against the front of her sequined dress.

Saying it is going to be twelve books before I start and opening with a line like that is coming out swinging with bare knuckles. It's going for the chin of the audience in a way. It may be asking a lot of some readers.
I was at a convention in Savannah, Georgia that was primarily focused on romance genres. Some of these conventions have recently started expanding out to draw in horror authors to appeal to an audience that might cross over into paranormal and supernatural. Pulling these readers over to zombies might be a stretch. The advantage is that these readers in the culture of romance reading are career readers. They read a lot and they read fast. They read loyally from book 1 to the end and then pick up what authors do next. It is a type of reader worth courting.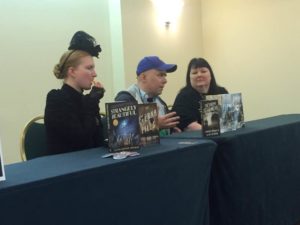 I had moved a few sets of books at this convention. An older woman asked me about the books and I told her. She said she wasn't much into zombies. I stopped trying to sell her and said, "Yeah, it's not for everyone." She opened the first book and looked at the table of contents. I use the "F" word three times in the table of contents. She then opens to the first page and starts reading. I think about that first line and I take a step back to make it easier for her to put it back on the table and walk away. She closes the book and stares off into space for a moment. As I'm watching for her reaction, she says, "Oh, what the heck? I'll take the first two in the series and the ghost story too."
She went from not really reading zombies to going for the first two books. She did this with less than a soft sell. I had gone to the "no sell." You just never know.
We live in a strange time where zombies have infected unexpected corners of the market. Not everyone reads and in actual dollars, zombie fiction in the written form makes up a very small percentage of a very large industry of zombie markets. Much of that is feeding a very small crowd of top authors. It includes names like Robert Kirkman and his comics, Max Brooks even though his books are years old, and then a spread of mid level authors with loyal audiences. Still, you just never know. A small piece of that market can make a difference for a rising author and you never know who will come into the genre from the side to pick up multiple books from the series out of nowhere.