by Jay Wilburn
I started writing book 4 of the Dead Song Legend series in fall of 2016. I finished it in spring of 2017. That seems simple enough. At the beginning of the book, I was in stage 4 kidney failure. When I finished, I had a renal transplant and was healthy for the first time in as long as I could remember. I began the story sick and facing serious decline toward death and resumed the draft with a new chance at life. That's as wide of a gap between start and finish as I can imagine.
How much of a difference is there between writing sick and writing healthy? There's a world of difference for me personally, of course. In terms of this one book, I don't know how to measure that. By book four, I'm familiar with the characters. I was already eighty to ninety percent through the first draft. I had to take a long pause at the beginning of the year, through surgery, and then through recovery. That was a three month hiatus. The series is pretty heavily outlined, so the work did not diverge too far afield. I also edited both healthy and sober, so that process has an impact on the final work.
I'm not sure I can really know the impact of my healing on the story. One huge impact is that I have a real opportunity to continue and to finish the series. I have the opportunity to write, to live, and to experience far more. Maybe there is new life in the characters too. I have access to the emotions and experience of facing death. I also have the knowledge of what it is like to survive, to get a second chance, and to make it out of danger when you don't expect to do so. I know what it is to be torn down and to be built back up. I imagine all of these extremes allow me to add layers to my characters and stories as they make their way through a zombie apocalypse.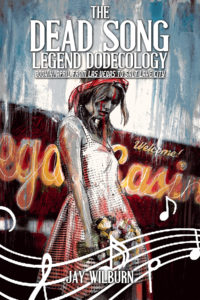 Everything that we are and experience will make its way into what we create one way or another. We pour it all out and use everything we can to keep creating. It all has a place somewhere in some story. I'm already working on book 5 of the Dead Song Legend series. The characters are where I expected them to be and where I left them at the end of 4, but they still find ways to surprise and challenge me as a new volume of their journey progresses. Book 4 of the series will always have a special place in my own history because of where I was when I started it and where I found myself when I ended it.
I have had a unique opportunity to see life on both sides. I'm thankful for the journey I have been on, what it has taught me, and how it has inspired others who followed along with my struggles. I'm thankful for the struggles. I am a better person and in a better place on this side of the story because I suffered. Because I suffered, I was able to experience mercy, grace, support, generosity, and healing at the hands of family, friends, readers, and strangers. If I started out healthy, I wouldn't have the perspective or the growth I have had and truly needed in order to live the life I was meant to live. Every start and finish should have an interesting and surprising arc in the middle. Always for the characters and readers, but sometimes for the writer too.