by Jay Wilburn
The Matters of Faith Podcast with host Jay Wilburn on Project Entertainment Network debuts Monday, February 6, 2017. As of the time I am writing this, I've recorded a few interviews, we recorded an intro with music, and episodes are being edited.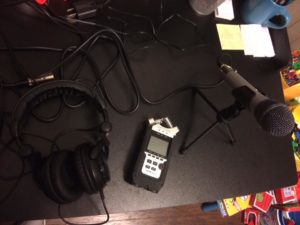 Also as I write this, I'm about to get a call from the transplant center to tell me the date of my surgery expected at the end of January or beginning of February. We are scrambling around to gather resources to pay for the medical costs of a new kidney, the expenses of recovery, and anti-rejection drugs every day for the rest of life. You can read some posts specifically about that here. Hopefully, the rest of my life will be a long life. That is the point of the surgery after all. We are also wrapping up the monumental task of scheduling care and all the life related aspects for our kids over the next eight weeks without us.
Why would we ever think to record a podcast in the midst of all of this? This seems like a terrible time to start a podcast on faith. But is it really? Discussions of faith don't tend to come together in moments of perfect timing. The imperfect moments of an imperfect life tend to be where faith thrives.
But what's the point though? If I'm not putting forward an agenda, why bother at all? Discussions of religion or against religion tend to be laden with agenda these days and they go nowhere. They accomplish nothing. No one listens. Maybe a podcast where individuals get to share their personal experiences surrounding the subject of faith while someone listens might be worth something. Maybe we could understand each other better even if we don't get around to convincing, converting, or changing a person into our own image. That might be worth something.
One goal of the show is to also include ideas outside of the lane I personally occupy. I'm in the process of setting up interviews with people outside my circles. My transplant surgery came up fast, so some of those interviews had to be postponed. Life does not abide by our timing and some things have to wait. I plan to record a few episodes during my recovery and isolation too. Those will be of my personal experiences before and after the transplant. I'm pretty sure the surgeons don't plan to let me record during the surgery. That would be epic.
I'm afraid. I have trouble wrapping my brain around what I am about to face. I have trouble seeing past the surgery itself and that moment is coming up fast. That is the moment faith matters. Whatever you might believe, there are moments that are bigger than us which we cannot fathom of our own power emotionally, physically, or spiritually. This is where the exploration of faith becomes immediate and real.
Look for the Matters of Faith Podcast each Monday on Project Entertainment Network beginning Monday, February 6, 2017.
Follow the show on Facebook.
And @MOFaithPodcast on Twitter.
Please, check out all the other great shows on Project Entertainment Network too.