by Jay Wilburn
It's going to be an interesting year. There are a lot of people from the horror community that are going to be there. That includes celebrities and top tier writers along with upcoming authors in the mid range and early portions of their careers. There are a lot of people in my social media circles that are making the journey out there. It seems like every time I turn around someone else has decided to make the trip.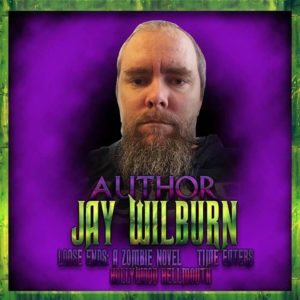 Scares That Care Weekend is more than a horror convention. It is a well run charity event that brings together all facets of the horror community across many subgenre, cross genre, fandom, and forms of media. The events leading up to and around the actual weekend raise money for the charity. Scares That Care raises money directly for families and children in need. The selected families are directly impacted and helped from the money the charity raises each year.
Scares That Care is July 22 – 24 although there are already a number of people arriving there now. They are doing a viewing of Jaws in the hotel pool tonight for the early birds. I'll be heading up early Friday to join in the fun.
The convention is in the Doubletree by Hilton in Williamsburg, Viginia. Although the hotel itself is full as of last time I checked, there are many hotels right around it on the same street for anyone looking for a deal to come in last minute. I will be there at one of the tables and in readings. Armand Rosamilia, Mark Tufo, and Devil Dog Press will be with us too. That is a lot of great reading material to select from. Come see us! I would love someone to talk to as Tufo and Rosamilia overshadow me!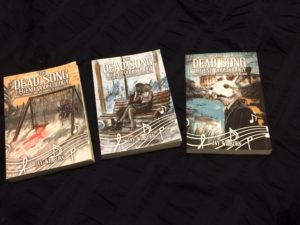 There will be a wedding this year which will be officiated by Brian Keene. That's not something you see every day.
I will have a reading and Q & A from 8:30 – 9:15 on Friday. Mark Tufo is paired with me and I understand that he will have a special surprise for everyone for his reading. You'll want to come see that for sure. I'll turn on the extra level of entertainment for anyone that comes to the reading. We'll turn it up to Eleven! I can also talk about ghostwriting, building a full-time writing career from the bottom up, and running the Summer of Zombie and Winter of Zombie tour for anyone that is interested. Mostly, I'll probably listen to Mark answering questions. Come by to enjoy that. Then, we will take over the world.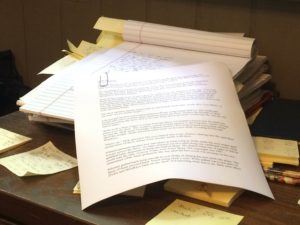 Armand Rosamilia and Mark Tufo of the award winning Arm N Toof Dead Time Podcast raised a great deal of money for the charity, so the two of them, Brian Keene, and Joe Ripple will all be on a live recording of the podcast at Scares That Care weekend while wearing kilts in honor of their Kilts That Care fundraiser for Scares. That recording is scheduled for Saturday morning 9 AM – 10 AM, July 24th, if you are planning to be there. I'll be there, but will probably wear pants in case anyone needs to talk to the cops.
Armand Rosamilia's reading time is scheduled for Saturday, July 23rd at 1:00 PM. Due to some scheduling changes, Armand is working to put together something special for that time. If you are looking for something a bit different, stop by during Armand's time to see what he and Devil Dog Press have cooking for your entertainment.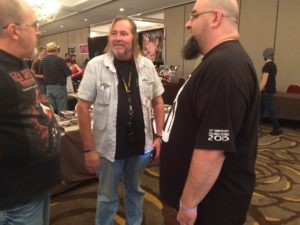 This convention is unlike any other that I have attended. It is particularly well run by Joe Ripple and his team. Brian Keene has put his full energy and support behind Scares to great benefit for the charity and those involved. Keene oversees the author programming from the celebrity level on down through those of us of lesser stature. Keene and Ripple go out of their way to see that vendors and other participants are treated right. Problems are handled quickly and personally on the spot. Those that join in the event as vendors and guests are treated as a valuable part of the convention and the Scares That Care effort. You feel appreciated and a part of something no matter what level of participant you are. Attendees of the con are excited to see everyone that is there and all the activities going on.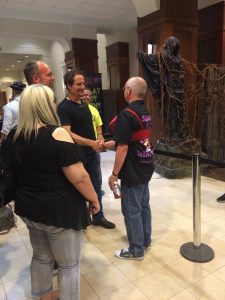 Not to brag, but Kim Coates stole my phone and made fun of me, so I'm kind of a big deal, don't you think? See for yourself …
The celebrities and high level guests interact with those attending the con in a way I have not seen at other events. The atmosphere and the feeling of partnership is just different. Top level authors and celebrities were hanging out in the bar with us common folk.
Come join in on the fun and enjoy a great weekend for a great cause. Help us fight the real monsters.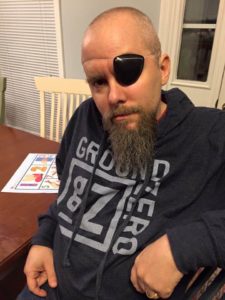 Check out Book 2 of the Dead Song Legend by Jay Wilburn.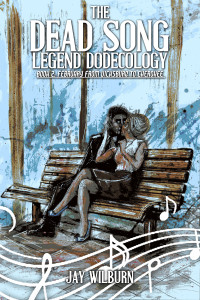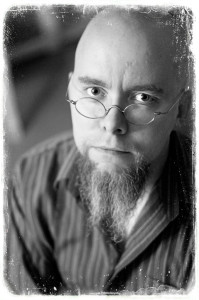 Jay Wilburn lives with his wife and two sons in Conway, South Carolina near the Atlantic coast of the southern United States. He has a Masters Degree in education and he taught public school for sixteen years before becoming a full time writer. He is the author of many short stories including work in Best Horror of the Year volume 5, Zombies More Recent Dead, Shadows Over Mainstreet, and Truth or Dare. He is the author of the Dead Song Legend Dodecology and the music of the five song soundtrack recorded as if by the characters within the world of the novel The Sound May Suffer. He also wrote the novels Loose Ends and Time Eaters. He is one of the four authors behind the Hellmouth trilogy. He cowrote The Enemy Held Near with Armand Rosamilia. Jay Wilburn is a regular columnist with Dark Moon Digest. Follow his many dark thoughts on Twitter, Instagram, and Periscope as @AmongTheZombies, his Facebook author page, and at JayWilburn.com
Or begin the series with Book 1.