by Jay Wilburn
Scares That Care Weekend Convention is this coming weekend as of the time I am writing this. It will run from July 21 – 23, 2017. I hope to see many of you there. You can check out details here. Or you can follow along on my Jay Wilburn Author Page on Facebook for updates, pictures, and fun observations all weekend long.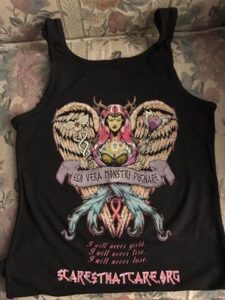 What does Scares That Care! mean to me?
This is a powerful question and it is hard for me to fully express it in a coherent way. Part of the answer is very personal and much of it has nothing to do with me.
Scares That Care is an ongoing charity which is active all year. Three individuals and families are selected to directly benefit from the year's work. Burn victims, someone battling breast cancer, and a child suffering from a serious childhood illness. The staff are volunteer and they work tirelessly so that all money collected after expenses goes directly to those who need it most. Learn more here and you can still give to this worthy cause even if you can't make the weekend celebration.
This is the horror community coming together from film, literature, culture, and fans to combine our efforts to do something good. And the charity has a vision to keep building to help more and more people.
I wanted to find ways to help more. My wife was able to step into a place of need for the charity and help out with some graphics work. I was gratified that she and our family could be a small part of filling a need for this worthy cause. I am so thankful for her in more ways than I can count.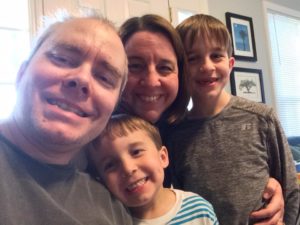 This past year I was in the final stages of kidney failure. I had a friend step up to be a living donor and literally both saved and extend my life. He and I discuss it here on an episode of the Matters of Faith Podcast.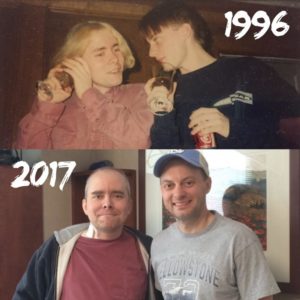 Others gave generously to help me afford an expensive surgery and the ongoing medicines I have to take every day twice a day for the rest of my life to keep from rejecting this amazing gift inside me. To repay a person who gave up a kidney for you? To repay his family for accepting me, supporting me, and embracing my need and recovery with open arms even though the price was the sacrifice of a piece of themselves? To fully appreciate the number of people with needs of their own who gave money so I could afford to survive? How do you pay any of that back? How would you even begin?
That is grace. That is the work of God. It is giving with no expectation of repayment. It is giving to someone in need who cannot repay you. It is giving life and I better understand grace both divine and mortal because I suffered and so many people stood with me and held me in life even as I was face to face with death. I walked through the valley of the shadow of death and you all were with me. You all comforted me. And you all celebrated with me on the other side of it.
I can never pay that back, but I can help pay it forward. Not out of obligation of reconciling a debt, but out of gratitude, out of new life, out of freedom, and out of love and understanding. That is what Scares That Care means to me and I go to this weekend to celebrate with the people who took part in saving me and who joined me and so many others in reaching forward to others in need through this worthy cause.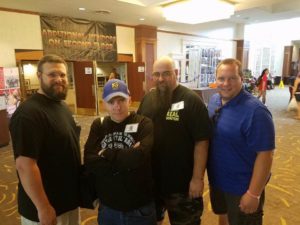 Then I was reminded again …
Shortly after the beginning of July, I had some complications with my transplant. A kidney biopsy of the transplant organ revealed I was in rejection. I spent some time in the hospital as they worked to reverse it. Many people from friends, family, the writing world, and the Scares That Care family followed along with my struggle.
The commitment I made was to fight this off, get better, and be at Scares That Care as planned. I responded well to the rejection reversal protocols. I'm not finished with recovery and I'm not out of the woods, but I'm better off than I was. I was able to make good on my desire to be at Scares That Care again this year.
As I scramble to prepare for the weekend after my hospital stay, I am reminded again how awesome it is to be alive and able to be here again with everyone. I'm reminded anew what this effort means to people in need. I'm thankful that I am well enough to participate and how precious of a gift that is. These moments are not a thing to take for granted and that is true of every day we have on Earth – every day that we get a chance to do something which matters.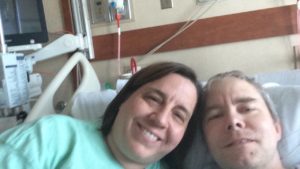 My Schedule for the Weekend. Join me! Please!!!
Friday, July 21st 6:30 PM – 7:30 PM — "Writing and Relationships: Finding Balance" (Author Reading Room A & B)
We'll discuss how writers and their significant others make it work. I, Jay Wilburn, am joined on this panel by Jonathan Janz, Amber Fallon, Ralph Beiber, Stuart West, Chris Philbrook, and moderator Armand Rosamilia. I'll have a chance to tell them all what they are doing wrong. This sparked a discussion and reflection with my wife and I which you can hear some of on this podcast discussion.
The vendors rooms are open from 5pm to 10pm on Friday, so come see me in the main floor vendors room.
Saturday, July 22nd 11:00 AM – Noon — "1987" (Podcast Room 8)
1987 was an interesting year for horror in writing and in film. I am joined on this panel by Michael Darwin, Frank Edler, Amber Fallon, and moderator Elizabeth Grey. She has an interesting approach to this discussion, so I look forward to seeing how it works out.
Saturday 4:00 PM – 4:45 PM — "Jay Wilburn and Clay Astroman's Reading and Q&A" (Author Reading Room A&B)
I'm working hard to come up with something good, entertaining, and legendary.
Saturday 7:15 PM – 8:15 PM — "Devil Dog Press Meet & Greet" (Author Reading Room A&B)
I'm really looking forward to seeing this great group of people again. Meet Jamie Johnesee, Jack Wallen, Armand Rosamilia, Greg Ferrell, Suzanne Madron, Tim Majka and more. Come meet these great authors and socialize.
The vendors room will be open Saturday from 10AM – 7PM
Please, come see me. Make me look good in front of the cool kids.
Sunday, June 23rd 11:30 AM – 12:30 PM — Matters of Faith Podcast (Podcast Room 8)
Come be part of the live audience for a recording of my podcast and a great guest. Hope to see you there.
The vendors room will be open from 11AM – 4PM Sunday.
Check out the full schedule of events for Scares That Care Charity Weekend July 21 – 23, 2017.
Follow my Facebook page for updates and details all weekend.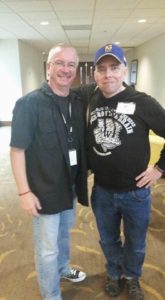 Special Publications to help Scares that Care
My favorite piece from what I picked up from last year's Scares That Care was The Zine. It included several of the celebrity authors and was photocopied and stapled like the old zines from the 90's. It was only $2 and all the money went to support the charity.
This year there are 11 great authors in it. These include Bryan Smith, Damien Angelica Walters, Mary SanGiovanni, Ronald Malfi, Chet Williamson, Jonathan Janz, Wrath James White, Paul Tremblay, John Skipp, Joe R. Lansdale, and um … oh, yeah, Jay Wilburn.
Now how did Jay Wilburn become the 11th most important author in a stellar table of contents which included ten of the greatest authors in the genre? Well, let me tell you a story. When I was going in for my transplant surgery, I was scared. I had been scared and facing death for a long time. I was dark even when I was being funny and even when I was looking for hope in the darkness.
I made a joke that I was going to write a story the day I came out of transplant surgery. The joke caught on with people and as crazy as it sounded, I realized this was one chance to do something no other author had done nor could duplicate. At a point where everything is a copy, I could perform a unique act.
I asked my wife to hand me a notepad and pencil as soon as I was coherent after I woke up. She offered it to me a few times, but it took me a while to get it together. I finally was ready at 8PM that evening the day of my surgery. I wrote "Captain Iron Heart's Long Goodbye" longhand in my hospital bed the day of my transplant while pumped full of morphine and with tubes coming out of me in multiple directions. It would require much editing, but it was drafted the day of my transplant, making it a unique creation in the universe. The playful "Captain Three Kidneys" identity rose out of the title of this story.
I wanted to do something that mattered with this story. Helping Scares That Care seemed to be the best fit. I approached the editor and put the story up for consideration. I thought the unique "story of the story" would be a good promotion for the publication and the money it raised. I became the the 11th most important author in the TOC!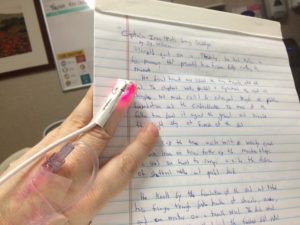 Every author in the Zine 2 will be there that weekend, so you can pick it up for $2, help the charity, and get every author to sign. Read the story I wrote the day my life changed forever.
The next publication available at the event which will support Scares That Care is Select Bites by All Things Zombie. They will be up in one of the second floor suites, so be sure to check them out.
The publication includes work from several authors who will be present at the convention this weekend. Jay Wilburn, Jack Wallen, Eric A Shelman, Greg Ferrell, Chris Philbrook, and more. All these authors will be there this weekend to sign. Joe Ripple himself wrote the foreword.
Any purchase made at the tables of the authors in Select Bites are eligible to enter a drawing at the All Things Zombie suite. So, come see all of us, go see them, and support Scares That Care with these great, special publications.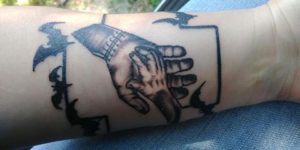 Why is this convention different?
Everyone is there for a reason. We have writers, podcasters, lots of fans, celebrities from the genre, and living legends. We are all coming together for a bigger cause and it is a great convention and atmosphere at the same time. I wouldn't want to miss it for anything. It matters that we are there and maybe that's what makes the fun and interactions that much more special.
I can't wait to see you there.
What I'm bringing …
Book 4 of my Dead Song Legend series will debut there, so you can stop by my table in the vendors room to pick up books 1 through 4.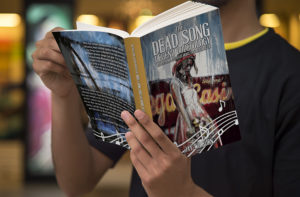 I'll also have copies of the Great Interruption, some exclusive Terrible Tiny Zines, the Zine 2 which goes directly to help Scares That Care described above, tee shirts, backpacks, and other rare books for readers looking to dig deep.

I will also have some extra special first time ever #CaptainThreeKidneys jar openers. Sometimes a jar opener is exactly the hero you need in the moment. Those are free for anyone who stops by. So come see me and get your #CaptainThreeKidneys gear just for being there. The individual packaging said they triple your power, so be careful not to send your pickle jars into orbit.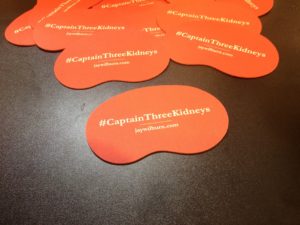 Why I want to see you there?
There are some very special groups of people. All the staff and volunteers of Scares That Care are wonderful people. They deserve more credit than they could ever get. When you run a weekend this smoothly, you don't get noticed because everything you helped make was so amazing. They are the best. Just ask Joe Ripple.
It is all about the people being helped.
The hotel is more involved and supportive than most any other venue I have ever encountered at a convention. They are onboard for our cause and our weekend. I have been proud of the guests, celebrities, and fans who have attended because they have responded with respect and positivity everywhere I have seen the years I attended.
This place is going to be sick with zombie authors and zombie fans. The attendance has been great past years, but it will be nuts this year. I will be there, Armand Rosamilia, T.J. Weeks, Kris Weeks, Brian Keene, Jack Wallen, Brent Abell, Chris Philbrook, Greg Ferrell, Stephen Kozeniewski, Eric A Shelman, Ricky Fleet, Chuck Buda, Jamie Johnesee, John Skipp, Joe R. Lansdale, Wrath James White, Edward Lee, Ronald Malfi, Chet Williamson, Thomas Watson, James Wallace, Will Allen, David Simpson, M.C. Allen, Edmund D Wight, Russel R James, Weasley Southard, Bob Ford, Tim Meyer, and more. There are a number of great publishers of zombie fiction including author Shannon Walters and Jeffery Clare of ATZ, Devil Dog Press, A-Poc Press llc, and others. I can't wait. Check out the full list of vendors and the list of celebrities. This is insane.
The Project Entertainment Network crowd will be well represented. Armand Rosamilia, Chuck Buda, Frank Edler, Brian Keene, Dave Thomas, Shelly Rosamilia, Tom Clark, Amber Fallon, Mimzie Hand, Ashley Price, Kelli Owen, Jim Adams, and more.
And everyone! I can't wait to see the people who show up for both the "SCARES" and the "CARE." There is an extended family here bound by love of the genre and concern for others in need. I have always know the Scares That Care family to have open arms. I'd love all of you to be a part of it and I can't wait to meet you.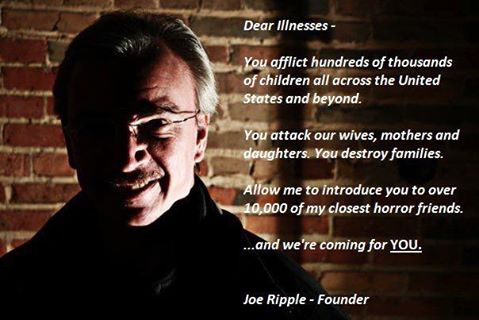 If you can't attend, you can still help. The money goes to those in need. You can follow my Facebook author page for updates all weekend. Hope to see you there and stay connected with you this Scares That Care season and the next.