Shadows are the evidence of something of substance in the light. There has to be an object blocking the light to have a shadow. In horror, shadows represent fear, danger, and mystery. Shadows are where things lurk. Sometimes the shadows themselves are the things lurking. Other times shadows are shade that protect us from the blazing sun. In those moments we consider shadows a relief and a blessing. Both can be true at once.
It is an unusual sort of day. I write full-time about dark things. I take care of my kids and put down words between the things they need. Days can blend together from time to time as I work on deadlines I mostly set for myself. If I try to fit too many things in during the day, even getting the kids ready to go meet my wife for lunch, the day can be gone pretty fast. I'll still go down for lunch from time to time.
Other days are different. Some days are a thing with more substance and cast a wider shadow. This day was particularly different.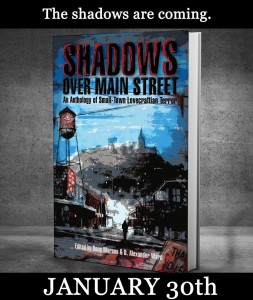 Shadows over Main Street came out today. This was a long time coming as all great books tend to be. The idea was brought to my attention in its infancy and offered me a chance to try my hand at a style of writing that had alluded me in the past – Mythos and Lovecraftian horror. A part of me expected to botch the attempt again, but this time was a little different. The bent to this anthology tilted it a little more into my wheelhouse. Shadows over Main Street takes this genre into small towns. The table on contents is extraordinary – intimidating even.
Here they are:
Foreword: Lovecraft's Longest Shadow by Ramsey Campbell
The 21st Century Shadow – Stephanie Wytovich
Χταπόδι Σαλάτα – Nick Mamatas
The Black Pyramid – Kevin Lucia
Mountaintown – Chesya Burke
This Stagnant Breath of Change – Brian Hodge
The Floodgates of Willowhill – Mary SanGiovanni
Odd Quahogs – James Chambers
The Thing with a Thousand Legs – Tim Curran
Undergrounders – Aaron Polson
The Flesh or the Father – T. Fox Dunham
White Picket Fences – Richard Thomas
The Friendless Bodies of Unburied Men – Gary Braunbeck
Estranged – Adrian Ludens
Red Hill – Rena Mason
The Abomination of Fensmere – Lucy A. Snyder
The Crisis – Cameron Suey
The Ogre – Lisa Morton
Boss Cthulhu – Jay Wilburn
Homecoming – John Sunseri
Interior illustrations from:
Quite the ensemble! Seeing these stories come to dark life is probably in the shady blessing category of shadows for editors Doug Murano and D Alexander Ward.
My story is set in an isolated Tennessee town in the 1950's. I use the story to poke at small Southern town politics with all the darkness and racism that underscore that. A Lovecraft story provides a unique context and subtext for this type of exploration. Mine probably plays a little fast and loose with the mystery and shadow. I may demystify the Elder Gods a bit more than is appropriate for these types of tales. In a story that peels back the layers on small town darkness, this was bound to happen.
This is not an every day sort of anthology and I hope you'll check it out.
Another part of my day, involved another big project. I'm also in the midst of writing the first book of what I expect to be a twelve book series. It started as a short story that wouldn't quite go away. I began to realize that the story hit deeper with people than I ever expected. So, The Dead Song Legend Dodecology is on the way. Luke Spooner is already onboard for the cover art for the series and interior art for the novels as well. The story explores music in the apocalypse, so as I wrote, the words seemed like they were missing the music. I started to realize that the series needed an audio element. The audio book was an option and I am discussing that with a pro I know in that part of the industry, but music needed to be a part of it as well. The story demanded it. I saw the shadow it cast over the work.
Now, my biggest problem with this lies with the fact that I lack in musical talent. I can hack on the guitar a bit and the world will soon see what darkness I'm capable of when this brand of music is unleashed. I'm not going to let a silly thing like lack of talent stop me though. Today was a meeting about putting together five songs for a soundtrack. I wrote the scripts for these mini radio plays written and recorded as if live within the world of the novel. We are going to produce them with ambient noise, dialogue, interrupting zombies, etc. They will be an extension and continuation of the story.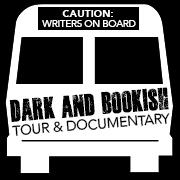 Add to this insanity that we are actually going to start filming for Dark and Bookish. The long brewing idea was a documentary about dark fiction writers struggling in a world where making it as a writer is a crazy dream. For all the impossibility of it, we are going to start filming with the work around this novel series, interviews with authors, and at a convention later this year. It appears to be underway and really happening. The shadow of this project has been over me for a long time, daring me to press forward with one more impossible thing. Now it appears to be a shadow that is moving with whatever substance the idea has.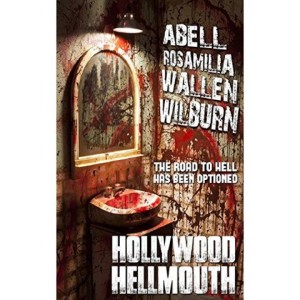 Elsewhere on the globe we have beta readers and editors looking through the rough edges of Hollywood Hellmouth, the first book in a trilogy written by myself, Armand Rosamilia, Brent T Abell, and Jack Wallen. It is a weird, funny book. It is a novel written by four authors and will be debuting at MidSouth Con in Memphis March 20 – 22. All four of us will be there. Once the trilogy is complete, we will all four be at another convention to promote and sign for that.
I'm currently working on a story for a shared universe zombie anthology with a group of authors that refuse to go quietly into the night.
Also today, Fat Zombie is climbing up the Amazon charts. I was reading Permuted Press books back before I had any ambitions of being a professional writer. Getting a story into a Permuted anthology was a milestone for me. Having my story "Denial" lead off that anthology was quite an honor. You can check it out for free in the preview on the Amazon page. Go ahead. I want you to read it. That's why I wrote it.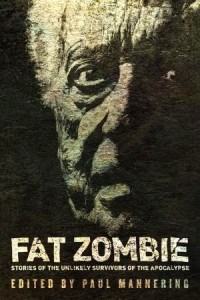 This is another anthology with a great table on contents worth checking out:
Denial
by Jay Wilburn
Awakening in a Dead City
by Timothy Johnson
In the Land of Siriad
by Vincent L. Scarsella
Perfect
by Rachel Aukes
On the Road to Chattanooga
by Tony Sarrecchia
Peer in the Woods
by Zakary McGaha
Pieces of First!
by Michael W. Clark
El Caballo Muerte
by Martin Livings
Endgame
by Dan Rabarts
Mr. Schmidt's Dead Pet Emporium
by Sally McLennan
The New Dark Ages
by Stephen Kozeniewski
Check out these authors and the Fat Zombie anthology presented by Permuted Press and editor Paul Mannering. The infamous Joe McKinney provided the introduction to this anthology. In my opinion, he as great a writer of essays as he is in penning stories.
Back to Shadows Over Main Street, I will be cohosting the Hazardous Press table with T Fox Dunham at the World Horror Convention in Atlanta May 7 – 10th. Many of the great authors and both editors will be there as well. Much of the other great work out from Hazardous Press this year will be out as well for its first public presentation.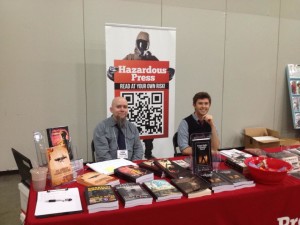 So, this is that shadow that this day is casting. Join me in celebrating Shadows Over Main Street by picking up a copy or any of the other pieces that give this day such an unusual substance. Hopefully, I'll get to look back and see that there was something significant to all that cast a shadow this day. Hopefully, I won't be stricken Lovecraftian mad by what is casting the shadow.
Thanks for reading,
Jay Wilburn, author.
Support Jay Wilburn's work on Patreon. Enjoy video blog short story readings.