We so rarely get snow in this part of the state, so we really appreciate days like this. With snow in the forecast, they called off school today yesterday afternoon to be safev and thank goodness they did. I took this picture from upstairs, so it really does not do the scene justice. I made a video too to capture this magical day home with my children in this winter wonderland. Take a half minute to share this experience with us.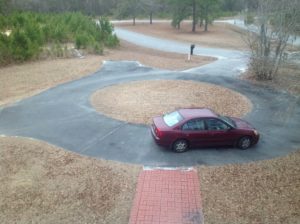 The video does the scene a little more justice.
Update: School was canceled for a second day. Conditions have worsened. I captured another video in case we don't make it.
The ice has finally come. Video 3!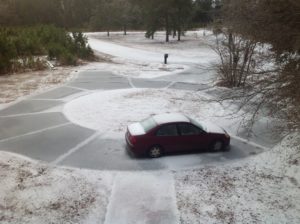 To be fair, we did get some winter weather eventually and South Carolina played it safe instead of sending kids to school to be stranded like over in Atlanta.
This is what "wintery mix" looks like in the Deep South. This thin layer of ice with a wet melt underneath is what we have all over the walks, driveway, and streets. Very slippery.