by Jay Wilburn
Jay Wilburn: Thanks for picking me up. Tell everyone your name … Why are the police chasing us?
Derek Ailes: Derek Ailes. And don't ask any questions. Just hold on. *Hairpin turn* *Tires screaming*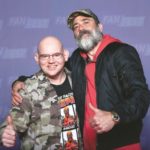 Jay: This is an interview. How can I not ask questions?
Derek: Oh, right. You can ask those questions. Just no questions about the cops or "alleged" crimes.
Jay: Got it. Tell us the title of your latest book.
Derek: The Undead Pool: Dawn of Injustice
Jay: Tell us about this one.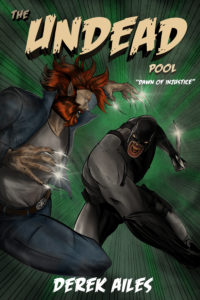 Derek: When the ancient goddess, Ta-khara, is suddenly released from her tomb, she devises a fiendish plot to turn the Why-Men against one another. She convinces Tigernaut that Mace Murdock (The Undead Pool), Stable, Irene and the Professor have become supervillains, and that they must be destroyed at all costs. Her ultimate aim is to see a Civil War unfold between The Undead Pool and the rest of the Why-Men.  The Why-Men must unite to defeat Ta-khara and her zombie army.
It's a spoof on the horror, zombies and superhero genres.
Jay: Tell us about your main character for this series.
Derek: Mace Murdock, the Undead Pool, is an undead superhero whose freewill was returned to him.  His main purpose is to protect the world from supervillains, especially ones in command of zombie armies
Jay: This is a very different way to tell a zombie story.
Derek: Mace Murdock was turned into a super-zombie.  Lady Deadra returned his freewill.  Like Liv Moore from iZombie, Mace has the ability to see someone's final moments after eating their brain. The zombies in the series are always under the control of some supervillain.  The series is under the horror comedy/parody category.
Jay: What made you decide it was time to parody superhero universes?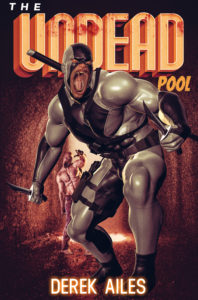 Derek: I had serious issues with Batman v Superman: Dawn and Justice and I wrote this to spoof the whole movie along with Suicide Squad and Captain America: Civil War.  Of course, I had to put zombies in the mix.
Jay: How does this book fit in with the rest of the series?
Derek: This is book two in The Undead Pool series, but you don't have to read the first book to enjoy it. I'd love it if you bought both books.  The first book has an awesome scene spoofing Negan from The Walking Dead.
Jay: Cool.
Derek: Did I mention there were zombie clowns in the first book?
Jay: Yikes! That would have been the second thing I explained.
Derek: What would be the first?
Jay: Why the cops are chasing you …
Derek: Next question.
Jay: What should people know before reading this book?
Derek: If you don't have a sense of humor, avoid this book. Dawn of Injustice takes my warped/twisted humor to a new level and it sets up the madness coming in The Undead Pool: Multiverse. I hope readers get hours of enjoyment.
Jay: Okay, I think that's it. Can you let me out?
Derek: Have you ever rolled from a moving car?
Jay: No, I'd really rather you just …
Derek: *kicks Jay out the door into the field* Learn by doing.
Jay: *brushes off as he watches Derek Ailes lead the police toward the sunset* Check out Derek Ailes's website. Pick up The Undead Pool: Dawn of Injustice and get the first book in the series too. *looks around and realizes he's talking to himself. walks across the field alone wishing he was watching Catfish instead*