Spotlight On interview with author Derek Ailes
Summer of Zombie 2016
Q: Name yourself!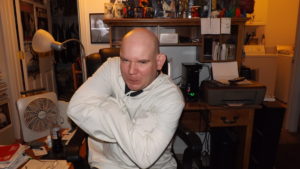 Q: What craziness are you pushing on the tour?
Catfurnado, Zombies and One Killer Doll by Derek Ailes and Mark Cusco Ailes
Q: You and your brother work on a lot of interesting projects together, I've noticed. Tell us about this one.
This is the second horror anthology by my brother (Mark Cusco Ailes) and I and it includes two of my zombie nuggets: Zombie Con and Brains!  Zombie Con is about Mark and my experience at the 2014 Walker Stalker Con in Chicago.  What happens when a real zombie apocalypse breaks out at a Walking Dead convention?  Will you be able to tell the difference between a real zombie or a fan dressed as one?  Brains! is a comedic story about a zombie on a quest to fill his stomach with brains without success.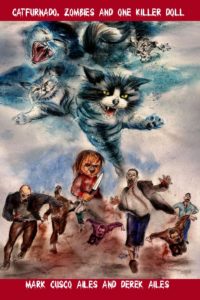 Q: Tell us about one of the colorful characters we get to meet in this modern masterpiece.
Norman Magnum from Zombie Con is a diehard fan of the show The Walkers and goes to a convention in Chicago to meet the cast and interact with the other fans.  He must fight to survive as the zombie apocalypse begins and the convention is ground zero.  There are lot of characters based off of the actors of the Walking Dead and other celebrities we see at all of the horror conventions.
Q: What sparked this particular story?
My brother and I go to hundreds of horror conventions and the 2014 Walker Stalker Con was the worst organized one we have ever been to.  The company hired to do the photo ops had no clue how to work a printer and it took several hours to print out the first set.  Most people left without their photos with a link to download them off the website when they got home.  Lauren Cohan was over an hour late and her line at her table was a mile long.  I thought this would be a perfect situation to write a zombie thriller around.
Q: This seems like a book that could use a warning label. What would it be?
Warning: Demented Horror.  Deranged Writers At Work.
Q: What are your links?!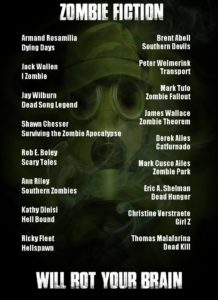 Check out Book 2 of the Dead Song Legend by Jay Wilburn.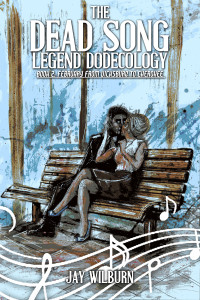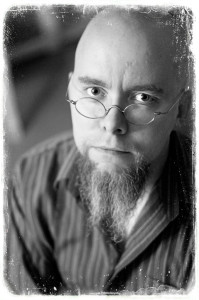 Jay Wilburn lives with his wife and two sons in Conway, South Carolina near the Atlantic coast of the southern United States. He has a Masters Degree in education and he taught public school for sixteen years before becoming a full time writer. He is the author of many short stories including work in Best Horror of the Year volume 5, Zombies More Recent Dead, Shadows Over Mainstreet, and Truth or Dare. He is the author of the Dead Song Legend Dodecology and the music of the five song soundtrack recorded as if by the characters within the world of the novel The Sound May Suffer. He also wrote the novels Loose Ends and Time Eaters. He is one of the four authors behind the Hellmouth trilogy. He cowrote The Enemy Held Near with Armand Rosamilia. Jay Wilburn is a regular columnist with Dark Moon Digest. Follow his many dark thoughts on Twitter, Instagram, and Periscope as @AmongTheZombies, his Facebook author page, and at JayWilburn.com
Or begin the series with Book 1.