by Jay Wilburn
Jay Wilburn: Tell everyone your name.
Mark Cusco Ailes: Mark Cusco Ailes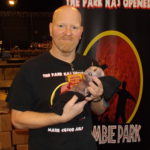 Jay: What's all that noise?
Mark: Zombies. They're tearing at the boards over the windows. We might have to move soon.
Jay: Wait. Those were real? I thought you had hired actors or something.
Mark: No, those are real zombies. Real apocalypse out here. The neighborhood has gone to Hell.
Jay: I'm surprised I didn't hear this on the news or something. I saw the piece about Derek evading the cops, but nothing on this.
Mark: Yeah, Trump tweeted something and that's all they're talking about. We have to handle the zombies ourselves out here.
Jay: Wow. Sorry, man. Tell us what your latest book is.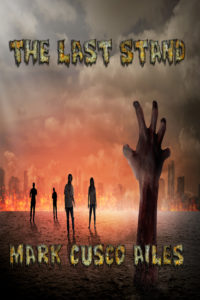 Mark: The Last Stand
Jay: Tell us how this new apocalypse begins.
Mark: When an accident leads to a new and deadly virus leaking from a biological weapons facility, it doesn't take long for the virulent strain to spread and start taking effect on those it encounters. The first effects are flu-like and seem innocuous enough, but this quickly evaporates, leaving the infected with feelings of murderous rage before they are finally overwhelmed and transformed into blood-crazed and mindless zombies.
Jay: Now there is a broader supernatural story in this book as well.
Mark: Yes. Derrial is a servant of God, sent to Earth to form an army from the surviving Christians, in the hope that they can stem the tide of death. Landus, the devil disguise as a biker, appears on Earth to form an army of zombies and anyone will to help him defeat Derrial.
The zombies in this book can be controlled by Landus to do whatever he commands.  They only attack those not loyal to Landus.  Derrial's followers better watch out.
Jay: What inspired this story for you?
Mark: It's a good vs evil, Christians vs Sinners.  It's Stephen King's The Stand with zombies.  No, I didn't rewrite The Stand. I've always been a fan of Stephen King's The Stand.  I was inspired to write a zombie novel with the same premise, but with a more religious approach.
Jay: What did you try to provide for your audience with this book?
Mark: This isn't your typical zombie apocalypse novel.  It's an inspirational novel highlighting a person's relationship with God with zombies in the mix. The zombie genre doesn't have to be about the world ending and you have to constantly be on the lookout for zombies wanting to kill you.
Jay: Very good. Check out Mark Cusco Ailes at his official website and pick up The Last Stand now. *scrambles away from the couch as the zombies break through the boards over the door and window at the same time*
Mark: Hold on. *turns on the TV to an episode of Catfish and rolls the TV stand into the horde of the undead* *zombies pause to watch*
Jay: Awesome. Let's get out of here.
Mark: Hold on. Wait until the commercial break. I haven't seen this one.