by Jay Wilburn
Jay Wilburn: Thanks for having me. Tell everyone your name … What are you doing?
Peter Welmerink: Peter Welmerink *Looks outside. Slams bunker door with the sound of a vault or tomb* Did anyone follow you? Did you leave a trail?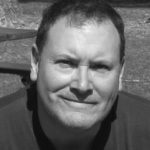 Jay: I don't think so.
Welmerink: You think so or you know?!
Jay: I wasn't followed. No one gives a crap where I go or what I do.
Welmerink: Good. That's good. What do you want?
Jay: The Spotlight On interview for the zombie tour … What is your latest book?
Welmerink: BULL!!! … from the Joe Cross Urban Salvage Engineer series. JOE CROSS is set in the same "universe" as my militarized TRANSPORT Series (Seventh Star Press). Joe's first and second story are set within the time frame of the TRANSPORT Series.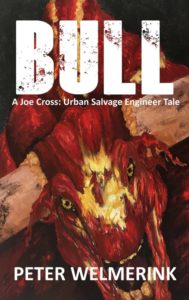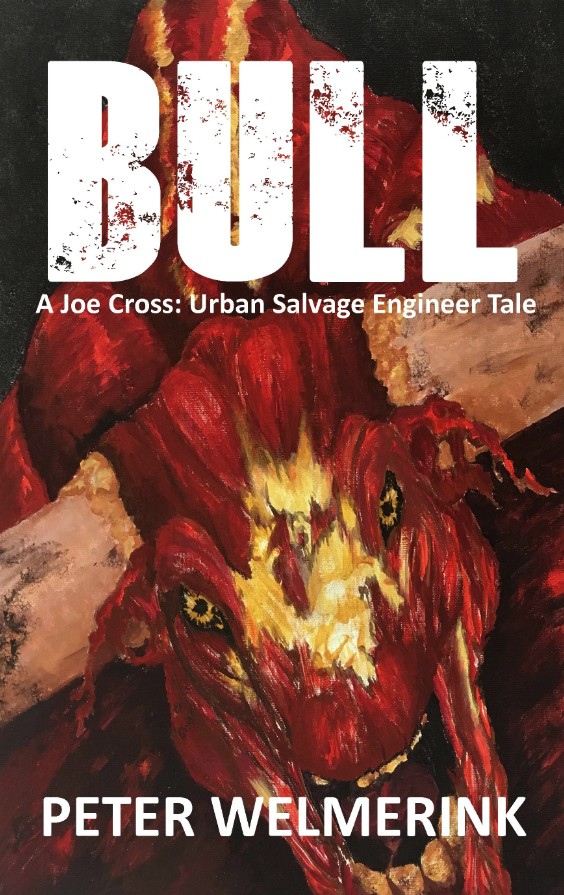 Jay: Tell us about it.
Welmerink: Lone salvager, Joe Cross, heads out of the village enclosure to acquire a special map for his current employer, only to run across two village militia men working on going AWOL, and a mutated, semi-undead, giant creature intent on stomping them all to a bloody smear.
Jay: Tell us about Joe Cross.
Welmerink: The main character in my JOE CROSS series is, ahem, Joe Cross. His job title is a Urban Salvage Engineer, that is, he will work for different people or communities in finding items of worth, or find items to sell or trade, to survive in the post-post zompoc world setting. 99% of the time, when he heads out to do his thing, his mission or pursuit goes sideways, ie, shit hits the fan and he has to figure out how to get his butt (and anyone else that might be with him) out of trouble's crosshairs. He's a good guy living in troubled times, trying to do the right thing and struggling to survive.
He also suffers from a bit of PTSD and converses with his late daughter's stuffed teddy bear, Albert.
Jay: You write zombies a bit differently. Explain that to us.
Welmerink: What makes my zombies different from other works in the genre is that there are two main types: the normal FERAL types roaming around on the outskirts of main towns and cities, and the drugged, lethargic LOCAL ones protected by the large city of Grand Rapids, Michigan.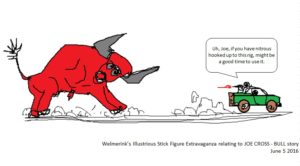 Jay: How does this book advance the series?
Welmerink: As Joe Cross is working out of Reganshire, a small and vicious community outside the big city of Grand Rapids, Michigan, readers get to witness what is going on on the fringes of the larger human settlement (Grand Rapids). Whereas TRANSPORT was about a massive armored transport vehicle and her captain and crew from the big city, JOE CROSS adventures are, for the most part, lone wanderer ordeals in a smaller community and area where it is just as hard to survive within (inside the village enclosure) as without (outside where anything goes).
Versus being involved with armored, militarized power and protection, you have a lone character trying to "McGuyver" his way out of things in a zompocalypse setting.
Jay: What would the warning label for the book be?
Welmerink: ADVENTURE AHEAD…but bring lots of band-aids and black powder –ejected projectiles.
Jay: What do you hope readers take away from these books?
Welmerink: That writing zombie-infused, post apoc material doesn't have to be all doom and gloom, or a gore fest. It can be simply another avenue for action and adventure.
Jay: That's great. If you want to find Peter Welmerink check out his website, his book blog, on Twitter @pwelmerink, on Amazon, at Peninsulam Publishing, or at Seventh Star Press. Check out Bull or begin with the first Joe Cross book.
Welmerink: Don't tell people where to find me. Who are you talking to? Get out! And tell Brent Abell and the rest of them that I don't take blankets in the mail. I know that trick!
Jay: *Leaves the bunker and walks across the broken concrete of an abandoned military base*
Welmerink: *Breathes a sigh of relief against the closed bunker door. Watches an episode of Catfish under the light of a single, bare lightbulb to unwind. Wishes he had a Wonder Woman blanket*