"The Horror Squad series by T. J. Weeks is a fan favorite for a reason. Readers enjoy the characters and the action and the series doesn't leave them disappointed." — Jay Wilburn #CaptainThreeKidneys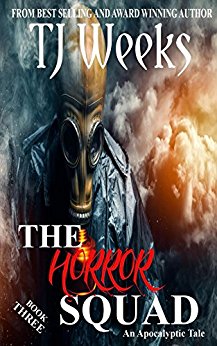 Excerpt from The Horror Squad: Book 3 by T. J. Weeks
"Look, I know that everyone thinks we're fucked and this is it for us, but I'm not ready to die and I'm certain that none of you are ready to call it quits either. I've written horror books my whole life and if there's one thing that I know for certain…the killer is usually the last person standing. Just like a book, you can expect a twist and we're that twist. You want to get off this roof? Then let's show these motherfuckers the horror that we grew up with!" I stated.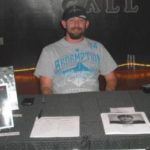 I grabbed Steven's grappling hook and walked back over to the edge of the roof. I slung it down right in the center of the herd and jerked up. I hooked one and started heaving it up the wall. I had it almost on the roof when Howard ran over and buried a machete into its head.
"What the fuck are you doing?" He angrily questioned.
"Exactly what you just did. Why should we worry about being butchered when we're the butcher?" I answered as I shook the rotter off my hook like a catch and release while fishing.
Justin smiled and grabbed a rope and turning it into a lasso. He started throwing it down like he was roping cattle around the neck. Gizmo joined him with his hatchet. Steven and Donald teamed up as well.
Some didn't have to be pulled all the way up to the top, some of their heads would pop off from the pressure of their bodies dangling and would drop while their heads would roll as they hit the ground.
"We're the horror squad!" Howard yelled down to the rotters as the corpses fell by three's.
I smiled at the thought. "You're right, we're the horror squad."
The herd was just about wiped out with the last seven climbing the pile we had put down. Most would climb about halfway up before falling backwards and tumbling back to the bottom. A couple even saved us the trouble as they fell and bashed their heads on the pavement splattering their own brains.
"So guys, you want to camp here or do you want to find a dry spot?" I asked as the last son of a bitch hit the ground.
"Let's go." Justin stated.
"Yeah, let's go. I have enough adrenalin to kill off all of these bastards." Gizmo stated.
"Grab your shit and let's get out of this hell hole." I suggested as I made my way to my own bag.
I threw it over my shoulders and slid about six feet down the gas pipe before I was able to step off onto the pile of bloody vile rotten corpses. For once I left my rifle attached to my bag and only armed myself with a machete. I did my best surf job getting down the pile and waiting for the rest of my team. After we were all back in the alley, I pulled one of the bottles of liquor from my bag along with one of the rags. I shoved the rag down in the bottle and had Gizmo light it before throwing it on the pile of rotters.
"That's a waste!" Justin stated.
"Na, it was well worth it." I replied with the flames dancing over the glassy haze of my eyes and started walking off to lead us to somewhere dry.
Again back in line formation that covered the width of the street, we all moved silently watching each other's backs as we looked for anything that moved that wasn't us. Every so often a noise would catch our attention and we would all spin in a three sixty and whoever spotted the dragging rotter would head toward it and pierce its brain with whatever our chosen weapon was. I led us to a huge library and started walking up the wide set of cement steps.
"Wow, the author finally makes his way home." Steven stated with a laugh.
"I've done book signings for years and the library is somewhere people didn't go even before they died. I think we'll be okay." I stated, laughing as well.
There was some ripped out and torn pages stuck to the steps by the rain.
"There goes someone's legacy." I stated as I stepped over them and pulled at the door.
As I thought, it was like walking into a ghost town with the shelves being the buildings. The tightness of the books made a disturbing whistling sound with the door open and the wind blowing through them. We made our way up the stairs so we could keep watch from the over casting level that had a view of the whole bottom floor of the library.
We each pulled out a sleeping bag which we had laid out with our heads towards the center of the library. Before laying down, we passed around one of the bottles of liquor and devoured an MRE.
###
Check out Horror squad book 1, book 2, and book 3 now! Also, look for the extra books in between for more great Horror Squad stories.