I don't know what makes a good idea anymore. That's assuming I ever knew. Three out of the four authors of HOLLYWOOD HELLMOUTH are full-time writers. All four write heavily in the zombie sub-genre. All four decided to try their hands at a four-way collaborative novel completely outside their usual pattern.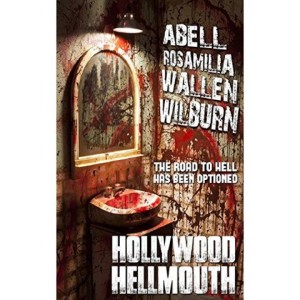 Who are we fooling? This novel is outside everyone's pattern.
The authors of HOLLYWOOD HELLMOUTH include:
Jack Wallen … He's sexy, right? It isn't just me? Why are you looking at me like that? I'm just saying …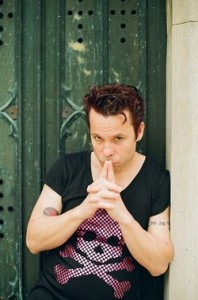 Armand Rosamilia … What grown man wears jean shorts? He's getting married in April, the month after we debut HOLLYWOOD HELLMOUTH at MidSouth Con in Memphis March 20 – 22. I have hope that she will turn him from this destructive jean short path that is hurting us all, but I don't know. She accepts him the way he is and I don't like that. I don't like it at all!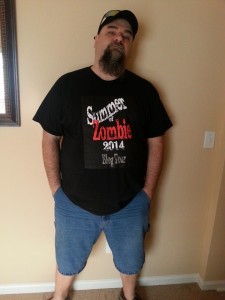 Brent T Abell … This may have been mostly his fault. We all met in person at the first Imaginarium in Louisville, Kentucky this past year. We will all be there again in September of this year to debut the third book in this trilogy. But it was him that remembered we had discussed this idea and brought it up again. And no one in this writing foursome was the voice of reason. So, HOLLYWOOD HELLMOUTH became a reality and will be taken to Memphis in March to receive Elvis's blessing.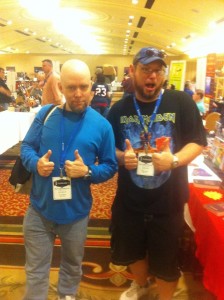 Looking back above, that's me, Jay Wilburn, next to Brent. Here I am again down below in my typical day three convention pose.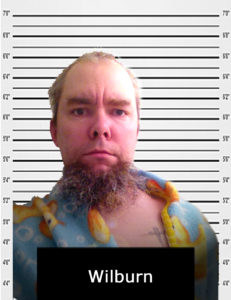 So HOLLYWOOD HELLMOUTH was the product of this collaboration, the first book in a horror comedy trilogy.
We honestly didn't know exactly what we were making when we started. I'm not sure we know any better now that we are done. It is horror. It is funny. It is a wild ride that none of us could have written on our own. It is all our voices and it is one voice that does not belong to any one of us. It's beautiful and disgusting. It is clever and purposely tongue-in-cheek. It is satire and it is farce. It is Velvet Elvis gates to hell, haunted bathrooms, and B-movie indie horror radical. It is a love letter to a genre and an indictment upon it. So, what the hell is it?! All I can really say is that it is a story that we wrote together for you to read and experience.
As I was looking back on the story during the phase of editing for continuity, it struck me how much more it was than just the combination of chapters. Each of us set out into careers in writing to pursue a dream that every right-thinking person realizes is insane and impossible. Most attempts at this fail and most projects in this industry do not bear fruit, but we keep doing it anyway. The unreliable narrator in our story is trying to achieve something impossible against insane odds. Even when the world is coming apart around him in the process, he pushes on and keeps his irreverent sense of humor and his unrealistic view of the world and his inappropriate assessment of his potential for success. This demon-fighting, apocalyptic horror comedy of a novel could not be a more appropriately inappropriate brainchild of this group of four authors.
If you survive book one, HOLLYWOOD HELLMOUTH, you will almost certainly be compelled by your own hilarious, impending doom to join us for the rest of the ride.
Collaborating with four authors was a whirlwind of storytelling. It had to get crazy even if I had found three normal writing partners, which I clearly did not. The unique humor of all four authors and the horror sensibilities of their combined experience bled out on the pages. You couldn't hold onto the characters or story too tightly. By the time the others finished their rounds and it came back to you, you were in a different place than you expected. It was time to move forward from where they left you. Sometimes they set it up on a tee for the next author. Other times, they deviously painted the next guy into a corner to see what creativity that inspired. Every time, though, each guy swung for the fences and left it all on the page. No one held back or mailed it in. Well, one guy tried to this one time, but we all drove out to his house and threatened to throw poop at him until he did a better job. Poop threats are kind of our go-to answer for most problems in life. The story really turned into beautiful impromptu writing in the way that often even single author novels are fleshed out in the writing process. Each author took on the next piece with "but then" and "so then" moving the story in the most unexpected ways. The journey truly did become a special story. It moved and ended with power. It set up the trilogy perfectly while being a satisfying piece on its own.
This is amazing because a couple of these guys kind of suck on their own, I hear. I'm just kidding, but in all seriousness, this post of mine was so beautifully written that two of the guys are crying like new daddies right now as they read it. I made them cry with my words because I'm so me and they are so them. Just look at them. Really, have you noticed Jack? It's like he's chiseled from stone in comparison to Armand and Brent. The differences are striking. I mean, I'm no slouch myself, but … okay, I'm lying … I am a slouch, but I think I make it work for me.
We hope you enjoy the crazy, sick, delicious, disgusting, horror, humor, social commentary, off-the-rails fun and terror that is HOLLYWOOD HELLMOUTH. I'm not overselling this in the least, I swear.
The book officially comes out March 13, 2015, but is available for preorder now. It will debut with all four authors in Memphis at MidSouth Con at the Memphis Hilton March 20 – 22. We will be guests there, answering for what we have done, serving on panels and signing. If you are anywhere around Memphis that weekend in March, please, come out to see us, pick up a copy, and get all four signatures. The way we live, most of us will die soon and the value of the book will skyrocket during the investigations. Preorder the e-book now or order the paperback on Friday the 13th of March.
We love you so much and HOLLYWOOD HELLMOUTH is the only way we knew how to express it. You shouldn't be creeped out at all.
Thanks for reading,
Jay Wilburn, ¼ of a funny person, 100% man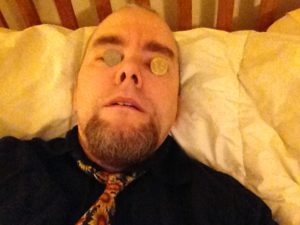 [poop joke]