by Armand Rosamilia
I wrote my first piece of zombie fiction in 2008. Had it published in an anthology in late 2010. By then I'd written Highway To Hell, which really started me on my path to writing zombie fiction each year.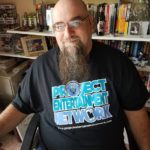 Dying Days was supposed to be one big book, but halfway through the first draft I decided I was enjoying these characters and situations so much I wanted to do a trilogy.
For Summer of Zombie blog tour I'll have Dying Days 8 available. My math isn't really my strong suit.
It will be coming upon ten years soon enough since I wrote my first zombie story. In the past decade, I've heard many, many times about the death of zombie fiction. Shouldn't that be undeath? Anyway…
Unless I'm woefully out of the loop, vampire fiction has quieted down quite a bit. Sure, you'll see the occasional vamp story, but it's usually back to basics. Old school blood and fangs kinda vampire stuff. I'd argue the good stuff again.
Zombies never really went away. Let's forget about The Walking Dead for a second, too. There is a very small amount of people who watch AND read zombie fiction. Face it. I wish it weren't true. I'd love to have millions reading our books, but it isn't happening except for Jay Wilburn, of course.
What is happening is the small but rabid fan base for zombie fiction is slowly taking on new converts. New readers who've never picked up a zombie book. Heck, some of the potential readers I'm meeting at book signings this year don't even like horror. They just want a good story and are willing to take a shot on zombie fiction for whatever reason.
Some might argue the recent Presidential election has also been a key factor in fiction and music. Movies. All forms of entertainment. People need a distraction from their feelings of inadequacy. It happens whenever we have change.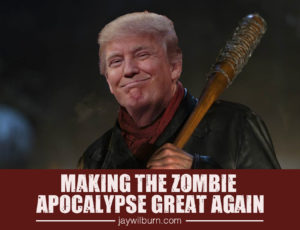 Reagan begat some of the greatest US punk bands. Will the next administration bring about the greatest apocalyptic fiction ever? I hope so because I'm a reader too.
What does it all mean?
Maybe nothing. Probably nothing. It means zombie writers are still here. Still prolific. Still looking for new readers. Still finding new, interesting angles for their stories.
Zombie fiction isn't going away. It's only going to get better too. You can count on it. Or don't. Who can say?
I can say… buy my new zombie book, Dying Days 8.
Then buy another three zombie books from this tour as well.
And a Dead Kennedys album for old time's sake, too.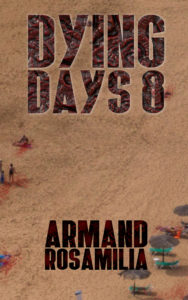 Dying Days 8 (on presale until June 27, 2017 for only 99 cents as part of Summer of Zombie)