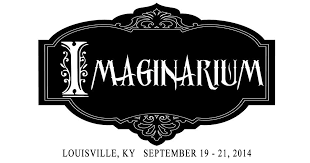 We had a great first day at Imaginarium Con.
I've learned a lot about Louisville. For some reason, the city puts all their restaurants and bars at the back of their neighborhoods. They keep all their hippies on one street with some pretty good restaurants. It's not a big city, so when you ask Google for something close, it includes the entire city. They have sweet tea which means they are civilized and clear thinking, godly people. There are also lots of strip clubs around the airport.
I made a point to go to a few of the early panels which normally get low attendance.
Then, we had a fire alarm in the hotel! It could have been the end of the world.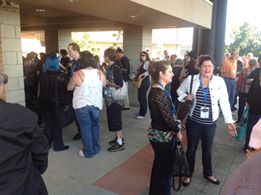 But it wasn't.
The Nightmares in Publishing panel went on just fine. There was a great conversation moderated by Eric Beebe and including Charlie Kenmore, Kathryn Lively, Jessica McHugh, Scott Sandridge and more.
I helped Max Booth III of Perpetual Motion Machine Publishing get his books out of my trunk. They were not drugs as I suspected.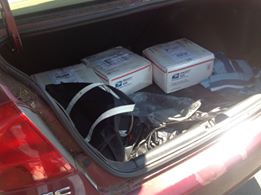 It looks so empty without a body.
I bought a copy of Darla Decker from Jessica McHugh, her Young Adult series which has a bit of an edge to it. I shall read it and judge which age my sons should read it. I'm 40, so I'll see if I am actually old enough to read it yet.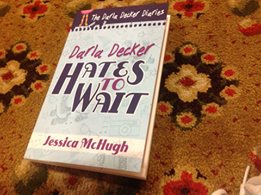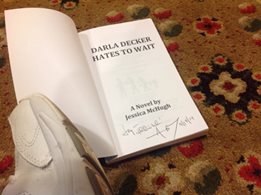 "THINK IN INK" Pick up your copy from the Post Mortem Table.
I sat and spoke on the Writers for Hire panel. The ladies came to see Tim Waggoner of course, but they listened politely when I spoke too. It was a good panel with a good discussion. And Tim, of course, is a great guy with a lot to offer in both his knowledge and in his writing.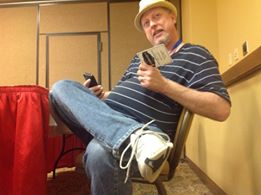 The Walk This Dead Way Panel focused on The Walking Dead franchise (comics and TV). C. Bryan Brown, J.L. Mulvihill, and Jack Wallen joined me in the moderator free panel. We shambled leaderless like the zombies we discussed.
Then, I found Armand Rosamalia in the vendors room and my life was ruined. I behaved because he had Special Gal with him and Brent Abell, both of whom I actually respect. Why they both agreed to marry Armand, I will never know. We almost died in their rental car when we couldn't find park. But it was all worth it when we ended up here.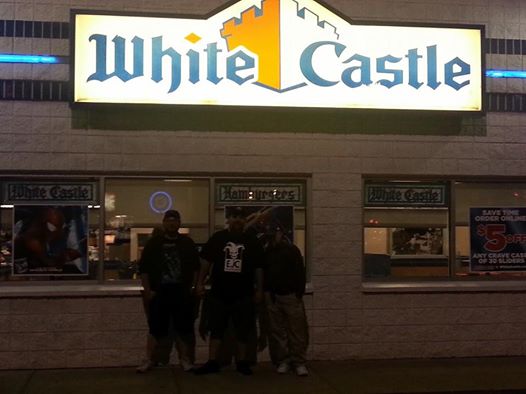 If there are typos in this blog post, it is because I cannot stop crying from joy. Even watching Armand eat could not ruin this beautiful moment. As we approached in the car before we knew we might die because it had no park setting on the steering column, Armand spoke in hushed tones, "Just look at the castle." — 100% true.
Then, he threatened to murder the cashier for suggesting he put ketchup on his burgers. — Some details exaggerated.
Then, special gal challenged me to eat 200 White Castle burgers which I did. Then, we all drank Big Red and they put my picture on the wall of heroes next to Armand's and they carried me out on their shoulders. — All true except for the details.
After I got away from Armand, I went to the screening of Letters To Daniel by Amy McCorkle. It is a moving story about dealing with mental illness.
Here I am eating Armand's nametage before he arrived: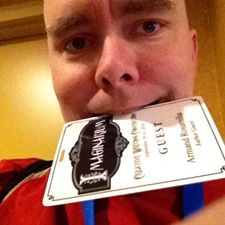 Here is Armand in jean shorts: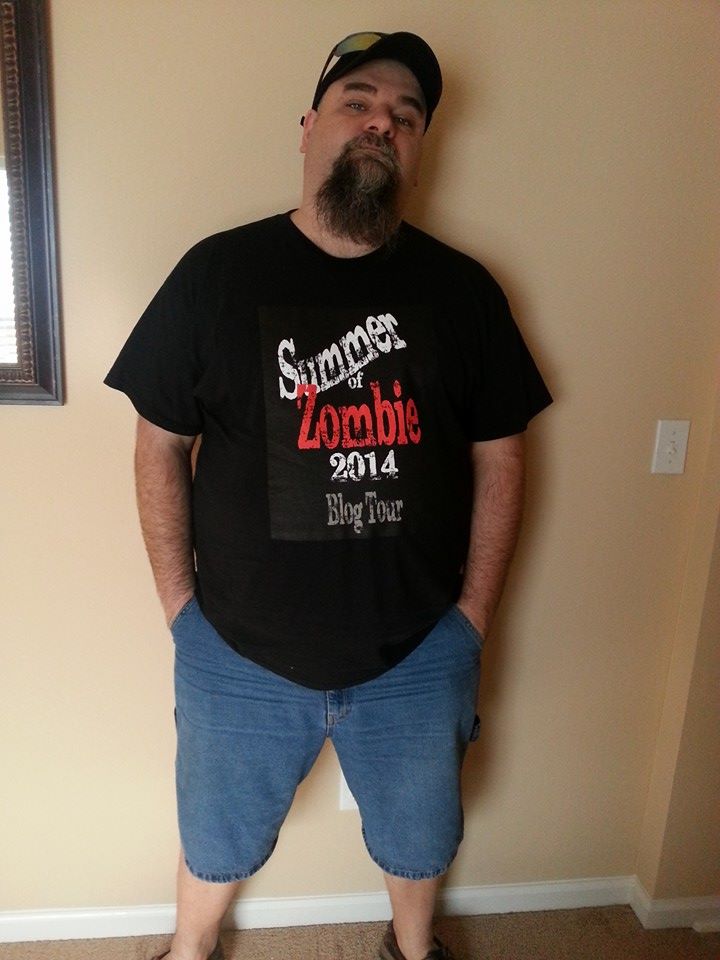 Come check out the Making The Most of Beta Readers Panel at 11:00am with me and Armand (also Alexx MomCat, Kathryn Sullivan, and Stuart Thaman) in the Madison room and The Zombie Horde Panel with both of us at 7pm in the same room (also Brent Abel, Jack Wallen, and Peter Welmerink). I will be in the Blog Tour Panel at 8pm in the Oldham room. I will be bringing old ham to share ironically.
Here is a book link because this blog is getting more attention now. It is free on Kindle unlimited.
We look forward to another great day on Saturday. Come on out, if you are in the area. Buy my books, if you are not.
#JayWilburnIsAwesome #NotADisappointment