Lisa Morton wrote the column "The H Word: The Small Town Setting in Horror" for the online version of Nightmare Magazine's site in 2013. Nightmare magazine is edited by John Joseph Adams. Both are nice, well-accomplished people in the genre and know their stuff in creating horror.
The article came to my attention from a Facebook post recently. I tried to post a comment, but my comment was deleted.
In the article, Morton defines the setting of the small town in horror as a trope. She mentions King and a few other authors that use this setting in stories where someone from the city returns to his or her home town and faces a great evil. She then enumerates the reasons this "trope" needs to be put away.
Maybe the plot device is overused or under diversified as a plot in horror. I don't know that from the examples she gave.
By definition, more people live in a given city than a given small town. I believe the current breakdown in America is roughly 80% of the United States population lives in one of 350 defined metropolitan areas. This assumes we define every burrough and suburb within the 350 as part of the same mass. I believe there may be a stronger argument that suburb horror is more overplayed now, but still.
Her point was that the experience of most readers is city and the small town is dying while urban fantasy is on the rise for that reason. She says it worked for King in the seventies when the small town was still holding on. This argument would argue against historical fiction because no one is living in Ancient Rome anymore or fighting the American Civil War. Most people don't live in the woods or a swamp or the mountains or Alaska or at the beach or on a space station, so consider urban fantasy for your setting.
Small towns have a lot of untapped, scary shit going on in them. My family lives in Conway, South Carolina. My mother was born in Vicksburg, Mississippi. My father was born in Olive Hill, Kentucky. Just from the stories I know, these are three of the scariest places on the planet. Small towns have violence, family rivalries, crime, disappearances, accidents, drug labs, places to bury bodies, and layers of history. Vicksburg was seiged by Grant in the Civil War until the people ate their horses and some their dead. Now they have casinos.
Olive Hill is full of Wilburns which by itself should be terrifying. All these Wilburns came from two brothers that fled there from Tennessee after one of them murdered a man while helping escaped slaves. After that, some of their descendants may have turned to horse theivery, but either generation makes a good story. One of my father's cousins got into a land dispute with neighbors in the 1980's. Two of them grabbed my father's cousin and tried to run a lawnmower over his head. He was armed, but wasn't going to fight back. When his daughter came out of the house to save him, he pulled his gun and shot the man holding him. A long murder trial laced with local politics ensued. I'm not making the best argument for moving there, but small towns offer a different level and potential for horror than other scenes.
Conway is a strange place full of Spanish moss and Olde South Gothic Darkness. It is a resort town with all that weirdness. It is where the first murder to use DNA evidence in the trial took place. It is a retirement community with transplanted Canadians and dozens of golf courses. They even have a Canadian Appreciation Day. The Tobacco Heritage Museum is here and they have a parade and a day for that too. The tree outside the courthouse is the site of the last "legal" hanging in the state. The railroad track takes a weird bend because an old woman stood in front of her favorite oak tree with a shotgun to keep it from getting torn down. It is farmland and swamp. It is hurricanes and logging. It is spots of isolation and clusters of humanity. It is foreign, seasonal workers and the largest swearing in of Albanians as American citizens in history took place here. Two presidential primary debates took place here because we are the first primary in the South and they want our vote. Among other things, they built giant sand castle heads of the candidates. Let that sink in as a horror discussion. There were giant sand heads built of Hilary Clinton, Obama, Romney, and NEWT GINGRICH. Now that is horror and those are just some of the stories that were true.
My wife's great great grandfather left this town with a doctor's wife. By the time the train got to Augusta, they had broken up. He owned property here, but lived his entire life as a poor sharecropper instead of coming back. They made a gravemarker here for him while he was still alive because no one knew where he went. My wife's grandparents returned to town years later, not realizing that they were actually "returning" until they found unknown relatives and the marker.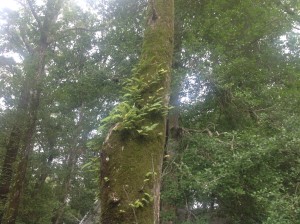 This is Ressurection Fern. It is shriveled and "dead" in normal weather. When it rains, it returns to life like this before drying back away again.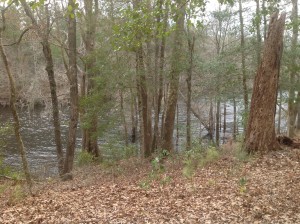 This is the Waccamaw River which is a few hundred feet behind my house off this bluff. The name translates to "Black Water" because the roots of the trees fill the river with an acid that darkens it. A few weeks back the motion detector light came on in the side yard outside our bedroom window. That's not unusual because we are in a wooded area so some creature or another is setting it off from time to time. I heard someone walking though, so I looked. An alligator was walking through our yard toward the river. I would have gotten a picture, but I couldn't see it from under my bed.
There are features that a small town setting provides for layers of horror beyond "man returns to hometown" that city settings don't offer.
Another of her points was the number of white characters making these trips to small towns. She inexplicably blamed this on small towns lacking diversity. I agree there should be diversity of characters in stories, but the lack of them is not the fault of the small town setting. Not every of the 350 cities is diverse. They are not all New York, Los Angeles, and Chicago. Even within large cities, not all, but many burroughs are largely homogenous. The same square footage in many small towns, especially towns in the South is far more diverse. Some of the largest minority percentages by state are spread across Southern states and across rural areas of some other states. Mississippi in particular stands out and not all the minority population is in Jackson.
You can write a million stories set in New Orleans, but you can also write about a dozen other towns in the same area where the entire population works in either oil or fishing, often in the same family, so dealing with an oil spill isn't as black and white as us against them.
I don't think the staleness found in certain storylines in horror can be blamed on the small town setting. I would also argue that the solution to the problem is not found in more city stories.