by Jay Wilburn
The plan is to reread all of Stephen King's works in the order that they were published. Richard Chizmar of Cemetery Dance had the vision. I'm doing it because I am a writer and I want to improve my fiction. I think there is something to be learned through this challenge. As Richard Chizmar and Bev Vincent put up their posts on the official site, I will link those in the corresponding ones of mine on this blog, typically with the "After" posts.
You can go back and read the previous post After Firestarter or go back to the beginning for Before Carrie to follow them all through.
The next piece is Roadwork.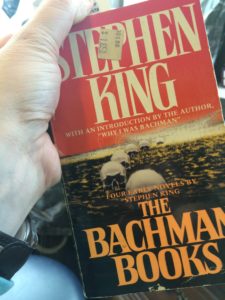 Roadwork is another Bachman novel. I did read it early in my discovery of King, still in high school, I think. I had it confused with another of his short stories. The storyline from that short got stuck in my head as the plot of this one as I saw the title coming up. I'm glad I checked to be sure I had the right story or this would have been a confusing post.
This one did not stick in my mind as well as the other Bachman books did. That seems to be a sentiment that a few people share about this work.
It reminds me of some of the early 70's revenge stories and revolutionary propaganda disguised as novels from the mid twentieth century. King is better than those writers and does not share their agendas obviously.
As I followed King's distaste for the story Rage in later years, I did not think about this book which could be looked at in a similar way. King doesn't regret this story in the same way he does Rage at times, but I think he finds Roadwork to be one of his lesser works. I realize the difference between the moral consequences of Rage and Roadwork have to do with the setting of a high school and the gun incidents of recent years and decades. Also, King did not have to answer for this nor other works in the same way he did for Rage. I still think taking killers' claimed influences from any art or media as a declaration on the value or negative consequences of those pieces is not a valid evaluation. But that discussion can be found many places and I already fleshed it out from my own point of view in my Before Rage post. And it really has nothing much to do directly with this particular book, so we'll move on.
This story did not slip my mind as fully as Dead Zone did, but I had to get my head back around it to write this. As I brought the correct story back to mind, there are some scenes and moments which stand out to me. I wonder how much the symbolism of the road pressing onward will strike me this time reading through as opposed to the action which I focused on more in my youth when I read it the first time. I've lost more people since then and came close to death myself. I can't help but to think some of the more subtle tones under the storyline will mean something more to me this time around.
King wrote it when he was 25 and it could have been his second novel in another universe. I know some great writers now who are younger than 25. I was not at that age. King is a different person and obviously a different writer now than he was with the writing of this one. More loss, more gain, and some hard road of his own between then and now. A few things were torn down in both our lives in the name of progress along our roads. There is a powerful inevitability to that no matter how much we might rage against it at certain points in our lives – an inevitability which can be tragic from one perspective and a blessing of suffering from the other end of the road.
I've talked myself back into being excited about rereading this story. If nothing else, I am certain I will remember it better this time.
My next post upon finishing will be my After Roadwork post.
Let's hit the road and witness the creative destruction,
— Jay Wilburn, writer and constant reader