The plan is to reread all of Stephen King's novels. Richard Chizmar of Cemetery Dance had the vision. I'm doing it because I am a writer and I want to improve my long fiction. I think there is something to be learned through this challenge. As Richard Chizmar and Bev Vincent put up their posts on the official site, I will link those in the corresponding ones of mine on this blog.
Bev Vincent shares a little history on Salem's Lot.
Check out my After Carrie post here.
These posts will all strive to be spoiler free while still going in depth into what I learn from the experience in a way that will be interesting for those that have read the books. Even still, be warned that I am discussing the content and the writing of the books in these posts. NOTE: This probably does not apply to most people who would be reading this, but if you have no idea what type of trope/ form of evil/ nature of monster King used in this story, Salem's Lot, which you could possibly go a ways into the book without knowing for sure, you might want to skip this blog before you read. I don't give away any plot points, but I do talk about the particular species of evil, so if you are trying to remain entirely virgin to the story prior to reading, be warned.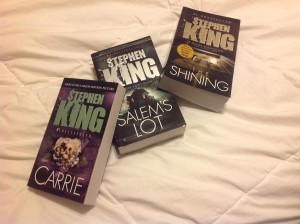 Salem's Lot short for the setting of the small, cursed town of Jerusalem's Lot is the next book in King's order of publication. He hit big with Carrie – big in a way that few authors experience ever, but especially anymore. Salem's Lot is about twice as long as Carrie. King earned even more leeway with his second novel than he was granted with his first.
He went into a traditional monster trope for his second published novel. With all the zombies, vampires, and werewolf stories around today, it's easy to forget that the literary field was more wide open back then in terms of what hadn't been done. Horror movies, classic monster movies, classic literature, and current literature at the time had explored the monsters, but few people would be picking up a vampire book and saying, "Oh, another one of these."
Vampires in a small town was a bit unplayed at the time of publication in 1975. There were a few examples of urban vampire stories, but Salem's Lot was different for the time and I imagine different in many ways still now with all the imitations.
King has been hyper-critical of the Twilight series. He has explored vampires in Salem's Lot and a notable short story, "The Night Flyer." Where many people lament sparkling vampires, King's complaints fall on story. He feels the Twilight series teaches that you need a boyfriend. By comparison, he points out that the Harry Potter series, in his opinion, has a broader set of self-reliant, positive virtues.
There has been some criticism of the storyline "man returns to small town for a reason, but stays when trouble arises." King utilizes this multiple times through his stories. I responded to one such critique of the small town as a setting in my own post here.
Essentially, I defend the small town as a rich setting even today when more people are using "man returns to small town." Lots of people never left. Some have tried. There are endless characters and manifestations of the setting. The horror and every other genre is there even without the supernatural. A lot of my writing lands in small, Southern towns. King tore up Maine in his stories and eventually moved a few down into Florida in his later years. He could probably pull off any setting and any monster well. Let's go back to 1975 and see what he does with vampires and Jerusalem's Lot.
Join me in my journey through Stephen King's novels.
Here is my After Salem's Lot post.
I'll keep you posted,
#StephenKingRevisted
— Jay Wilburn, writer