by Jay Wilburn
I don't think it is possible for me to oversell how engaging Adrienne Lecter's Green Fields series really is. Fan response from those who have come across this series speaks for itself. You can get a taste for Lecter's zombie universe in the Undead Worlds anthology. We are featuring the latest in the Green Fields series with Affliction.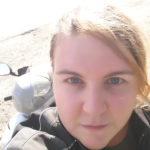 When Lecter started the series, she had six books planned and was sure that it would remain at that; it was enough to clear up most of the underlying conspiracy. But when she published book five, a lot of readers "complained" that there was only going to be one more book. There were enough things happening in-story to account for consequences that wouldn't be dealt with at the end of the next book, so she figured, why not add another book to clean it all up? Of course, that lead to two more books, and then another one when she started outlining, and her readers were excited about that, I'm sure. So, in a way, she says, it is as the story played out as she continued to explore as she wrote it, prompted by reader demand. She won't let it run on until nobody wants to read another line of it, but as long as she can come up with a plausible plot, why not continue?
When she isn't writing, she finds other distractions. She just bought a new motorcycle, that's conflicting with her writing time at the moment. But she thinks it's great for story plotting. She reads a lot and she has a host of obscure hobbies that might give her a leg up in the zombie apocalypse, at least should she survive the first month, she says.
Looking to the future, she has a stack of three independent series in different genres (apocalyptic horror, sci-fi, and urban fantasy) cooking and plans to start them in the next couple of years. Her plan is to fill an entire book case with her novels by the end of my life. I and other readers will certainly be along for the ride.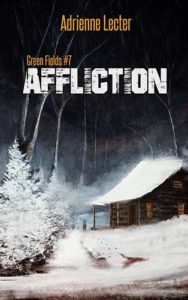 I hope I have made the case for Adrienne Lecter. Check out the Green Fields series now.