by Jay Wilburn
Alathia Paris Morgan stretches her writing between multiple genre, bringing a unique perspective and voice to each. As a result, when she writes a zombie story, it is something different and special. You can check out her first zombie story Infected Waters: A Titanic Disaster. Then, you can get a completely different zombie story with her latest novel MAZ: Mothers Against Zombies.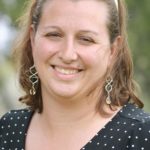 When asked how different it is to move between mystery stories and zombies, Morgan says it is very different both in the style of story and her mode of delivery. So far, all of her books have been from the third person point of view and Mothers Against Zombies is first person. She also has to remember to not have zombies pop out in her mysteries.
The origin of Mothers Against Zombies came from a mental picture she had which she then expanded out into what would become this great zombie novel. She saw this mom of a brand new baby running from zombies and knew that her story needed to be told.
I asked her if diving into the world of zombies twice now from two very different perspectives had changed the way she writes and creates stories. Morgan explained she wouldn't say that it's really changed anything because she reads so many different genres that she's used to switching gears mentally. The biggest change, she admits, is in how to describe the ugly suckers without going overboard.
Looking ahead to genres she is considering exploring, Morgan says she might tackle the MC genre (motorcycle club stories often seen in particular romance novels), but she hates to fall into overused tropes, so it wouldn't be the typical biker gang novel.
MAZ: Moms Against Zombies is the first in the Against Series. Morgan is not sure of the order yet, but Dads Against Zombies, Military Against Zombies, Church Against Zombies, and Kids/Teens Against Zombies will be coming out over the next few years.
Her motivation for writing and story ideas comes from the world around her, which is filled with so many different people and ideas. She thinks when you approach your characters as real people who have real problems, it makes them more realistic. So far, there isn't much in the way of romance in her books simply because not everyone is at that stage of life. Morgan explains, we are not all "20 somethings" who are just now finding ourselves. We are mid-agers, grandparents, moms, and more. That leaves a lot of stories left to tell.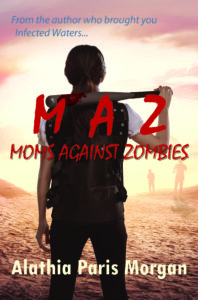 I hope I have made the case for Alathia Morgan and her excellent stories both zombie and otherwise. Check out MAZ: Mothers Against Zombies. If you want to know more, take a look at this case for Alathia Morgan from the previous Winter of Zombie tour.