by Jay Wilburn
Angela B Chrysler has a broad and diverse catalog of work. None of it conforms to formulas nor truly resembles any other works within the genres wherein she writes. Each story, character, and series is something special and unique. This goes for her zombie series too which begins with Zombies From Space … And Vampires. The story has a wild, complex plot with full, dimensional characters. It is difficult to encapsulate in a summary, but it is worth every page to the reader.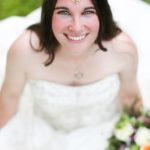 In Zombies From Space, an alien race of "zombies" called the Weeches invade earth and start eating humans, as zombies are apt to do when they have the power of space travel. Arai Danes finds herself involved with a vampire slaying pirate crew (that's what I said) known as The Slush Brain who have risen up against the vampire/zombie threat to fight for the survival of humanity. And that's not even the half of it. I knew as soon as I picked up on this book from blogs and Twitter chatter that I had to consider it for the Summer of Zombie tour. Once I read it, I made the hard sell to Chrysler to join the featured authors. Readers had to see this book.
If I were introducing readers to Angela B Chrysler as an author to get a feel for her full range of writing, I'd send them to Broken. It covers a vast group of readers from memoir readers to psychological thriller fans and I think it might be some of her best work. Chrysler concurred that this was a good entry point for her work. It also gives readers an introduction to one of her major characters in her fantasy series, Tales of the Drui.
I asked her about the range of her writing and some of the wild combinations of genres I saw in her work. Chrysler said her range really was set by her own interests. She loved Beauty and Beast for the cold and beautiful Gothic story, but she loves the "WTF" styled parody that is Douglas Adams too. She also loves the sweeping grandeur that is Tolkien. Chrysler thinks these three styles really play into her own writing style based on her mood often times. The three styles don't always blend naturally, she explains, but something in her aches to write in these three styles. The memoir of Broken, she thinks, was a once in a lifetime event, which took her writing into a fourth genre. Her own zany fandoms are what caused her to write in so many genres once she took pen to paper herself.
As I was hunting video for another post, I ran across a rich catalog of videos on her YouTube channel and I discovered Nerd Rage. This podcast, Chrysler explains, was an idea that emerged from this year's Brain to Books CyCon. They had this one great group of intellects for one panel discussion in particular and she says they all fell in love with each other. That could have been awkward. The chemistry was just spot on, she said, and they didn't want it to end. Chrysler herself came up with the idea of Nerd Rage to give them an empty stage, a blank canvas, where they could just dive in and talk about anything they wanted. It was a means to keep revisiting that group. She sent the invitation out to others and added a process for collecting topic discussions. Anyone can submit a topic which Chrysler then pulls from the draw of a hat at the start of each show. The show is well worth checking out.
Looking ahead, Chrysler is finishing up on a Beauty and the Beast retelling for a horror anthology she is putting together with Louis Rakovich. That releases summer 2017. She is also working on Zombies From Space…Fists In The Dark, which is an ongoing blog novel. I'm looking forward to following the progress of that work. Her primary project is Shadow and Ash (Tales of the Drui Book #3), which she hopes to release in spring 2018. This will continue the Tales of the Drui series.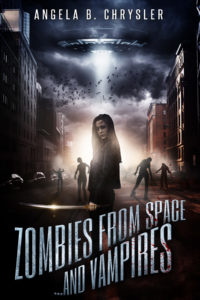 I hope I have made the case for Angela B Chrysler and her work. Check out Zombies From Space … And Vampires now. Follow any of the links above for other great stuff from this talented author.