by Jay Wilburn
Armand Rosamilia established himself as a leader in the zombie genre with his Dying Days extreme zombie series. Fans and readers have been captivated by all eight books so far as the story, characters, and world have evolved. He has established himself in other genre and styles of horror too with Dirty Deeds, Green River Blend, Chelsea Avenue, and The Enemy Held Near just to name a few. Rosamilia's work promises to please and proves there is so much more to come from him in the future.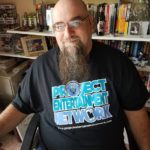 Book 8 is the second to last book for the main series thread of the Dying Days universe with book 9 coming soon as of the writing of this post. I asked Rosamilia how he felt about writing the second to last book of what has been a signature series in his writing career. It's scary, he admits. He can really see the end in sight now. He has a rough idea how it will all finish. It will definitely have a real ending, so some parts of book 8 hint at this conclusion and move the story in that direction. I have a few guesses from having read it, but I'll keep those to myself.
I pressed him to try to get some clues as to what might be in store for the Dying Days universe beyond the close of the main series. He indulged my question only to say there will be another series at some point set in the future, but his goal at the moment is to take 2018 off from it except to compile all the loose stories and other rarities into a final Dying Days release. Like most readers, I will be awaiting the ninth and final book along with the compilation of the extra stories from his great, extreme zombie universe.
I asked him about his work outside of zombies and the horror genre. Rosamilia said his biggest challenges and rewards at the moment come from crime thrillers specifically with his Dirty Deeds series. He's getting a lot of new readers because of it and even though the goal is a new book every 6 months in the series, readers are already asking for book 4. I think that's a good sign.
I asked him about his decision to take on ownership of the Project Entertainment Network in addition to the podcasts he already personally runs. He says it is his annoying weakness, where he can't just dip his toe into something. He needs to plunge right in. Rosamilia loves listening to podcasts. Interviewing people for podcasts. It is still the wave of the future, he thinks. It is another full-time job along with writing for him, but he loves the challenge and the different kinds of podcasts PEN brings to the table each week.
Rosamilia has worked in radio and at managing bands at various points in the past, so I asked him if there was a connection between these various passions leading into his current efforts with Project Entertainment Network. It's about being creative and being involved in all aspects of media, he explains. He's always dabbled in other forms of entertainment besides writing and publishing. Podcasting and owning a network is the natural progression from managing bands and then being on the radio for him. He still uses some of those tools he learned back in the day too.
Looking toward future releases, Rosamilia says to expect a few changes to how much he releases. He's easing back a bit so he has time for longer works as well as the podcasting network. His goal is to mix in some novels with small presses in the next year or two as well. Dirty Deeds will continue, but there will be more focus on his Patreon and giving fans exclusive content there to read. It is a great page with great content, so I personally recommend you all check it out. Plus, he emphasizes he has not ruled out the option of getting fatter.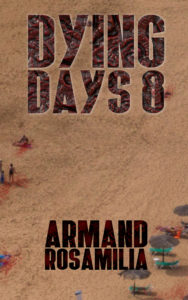 I hope I have made the case for Armand Rosamilia. Check out Dying Days 8 now or get started with book 1. If you want to know more, follow any of the links above or check out this case for Armand Rosamilia from the previous Winter of Zombie tour.