by Jay Wilburn
Jack Wallen is well known to zombie fans for his I Zombie I series and a number of offshoots of that original thread which have taken readers on more exciting undead adventures. He has also written stories in a wide range of other genres including cyberpunk with Lament, afterlife romance with Suicide Station, a new take on classic horror with Frankenstein Theory, crime fiction with Punk Ass Punk, and steampunk with Klockwerk Kabaret among others. Wallen blends genres often in his works to the delight and wonder of readers. His story A Tale of Two Reapers and his subsequent books in that series are drawing attention as well. ZR3: Zombie Radio 3 is his latest zombie offering.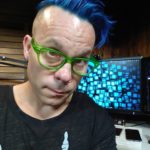 Wallen is active in other media including a few podcasts. The one most related to his zombie universe is the Zombie Radio podcast. Wallen explains that particular beast began as a marketing tool for the second book in the I Zombie series, My Zombie My. He wanted to add this disembodied voice that would serve as a sort of otherworldly guide and friend for Bethany in that series. Plus, he wanted to be able to create some form of entertainment that could be plausible for the apocalypse. One of Wallen's beta readers suggested he make Zombie Radio an actual thing, and he thought, "No one is doing anything like this at the moment, so why not?" That was 2011. Zombie Radio is still going strong and can be found on iTunes or at zombieradio.org.
Wallen is active on video with a series he's called Me And My Muse. It's a weekly video conversation he has with his muse about various aspects of writing and being an artist. He started it because he often had those conversations with his muse and figured it could be helpful for other artists to watch and listen to the process. Those can best be found at JackWallen.com along with details of other podcasts and projects he has going.
Jack Wallen has recruited other authors to join him in If Music Be The Food as a writing experiment. Wallen says he was chatting with a friend who was a part of a different flash fiction event, where the organizer sent each participant an image. He'd been wanting to do some flash fiction for a while, and thought it would be cool to combine two of the things he truly loves – writing and music. Music, Wallen explains, has this way of touching and moving us in ways so few other artistic forms can. Considering he always turned to music for inspiration, he thought it was the obvious next step. He's also had a lot of writers reaching out to him to say how they were suffering from writer's block or just a general ennui about the whole craft and business. He thought the project would be a good way to give everyone a swift kick in the motivation.
In discussing the range of his writing, Wallen says for quite some time now, he's been planning on a metaverse for all of his universes. He's currently working on the third book in the Reapers series (published by Devil Dog Press) and has connected it to three other series of his. He has a goal in mind where the I Zombie series will wind up in the center of all of this madness. If you've read the series, you'll start seeing, I think, hints of this in the latter few books. Every one of his series is open ended. He listens very carefully, he says, to the characters and if they tell him it's time to end, he will do that. He does want to revisit the Teenage Wasteland series for another installment. He has also hinted in other places he might take on more classic monsters in the Theory series he began.
I asked Wallen about the rewards and challenges in writing such diverse work as we see from him. Wallen truly feels writing in different genres serves as a great means for not only keeping his ideas from growing stale, but the word structure from one genre can help inspire another. Writing in the horror genre with an eye to, say, thrillers or humor, makes for multi-dimensional work. Wallen thinks adding dimension to the work is important in a world that is so flooded with books and authors. He is constantly trying to improve his craft and process. Over the last year, Wallen has made a number of drastic changes to his process, so he can improve what he produces. As an outside observer, I think he's grown more as a writer this past year than he ever has. Wallen agreed with that observation. Wallen advises to keep your eyes open, as an artist, to not only what's going on around you, but what's going on inside of you. Always be willing to change or alter your course. If you're not growing, your stagnant.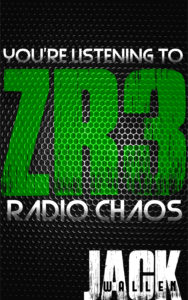 I hope I have made the case for Jack Wallen. Check out Zombie Radio 3 or go back to the first book in that series. If you want to know more, check out any of the links above or check out the Case for Jack Wallen from the previous Winter of Zombie tour.