by Jay Wilburn
I've been following along with Ken Stark since he released Stage 3 and the buzz around the book began to grow. With the release of Stage 3: Alpha, I could see the strength in the ongoing series and knew he's be a good addition to the zombie tours.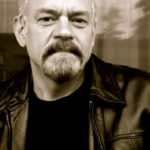 Stark has been writing since he was a kid, but after a few rejection letters in his teens, he put it on the backburner and went on with life. But the dream remained and the time finally came when he knew he had to put up or shut up, so he sat down that day and simply started writing. As it turned out, that first book was pretty bad, in his opinion, but it reignited the passion and he tried again. This time, the book was picked up by the first publisher he sent it to, so he finally got to realize his dream.
He loves the entire writing process, so he never has to force himself to do it. And he never wants to get to the point where he considers it a job, so he doesn't have daily word counts or set times to write. Some days he'll write a paragraph and other days he'll sit for 10 hours and do a whole chapter or two. When he's in the groove and the words are flowing, it's intense, but it's always a "good" intense.
He says, he couldn't be sure the first book would even be picked up, but he already had plans for the next two and tentative plans for a fourth. Now, he's halfway through book 3 and he already knows where 4, 5, and 6 are going. He has an end point in mind, but he's having so much fun in that world. He keeps shoving the end back into the distance. I have no complaints about that so far.
He tells me, he always have a few things on the go, actually. He just dipped his toe in the Indy world with a novella called Jitters and he has a full-length novel planned for the end of 2017 or early '18. Still horror, but no zombies this time. After that, he'd love to try a full-on sci fi book, but he'll have to see what else pops up between now and then.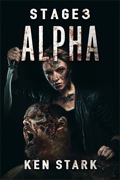 I hope I have made the case for Ken Stark. Check out Stage 3, Stage 3: Alpha, and other links above.