by Jay Wilburn
Ricky Fleet has quickly made a name for himself among zombie writers and readers with his Hellspawn series. From book one to Hellspawn Requiem, the fourth in the series, he has grown as a writer along with the great world and characters he has created for us to enjoy.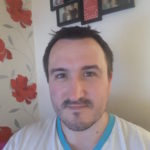 I talked with him about the progression of the series. Hellspawn was an idea that had been brewing for years in Fleet's mind. He wrote it in a blur with very little thought for longevity in the series. He had to take a step back with the subsequent books and grow the tale beyond the four walls of that small home in the south of England. Requiem itself has seen a further growth in the character list which may take away focus from the core of the original outbreak story a little, but Fleet still tries to make them as engaging as possible for the reader. The apocalypse begins to take a much darker tone now as the true nature of men reveals itself which goes against the hopeful and family-oriented message in the original Hellspawn.
Hellspawn is a series which does a lot with setting and the characters within those places. Fleet tries to create a story that is as believable as possible within the constraints he says he inadvertently set for himself by choosing slow, Romero style zombies for my first series. In place of the frenetic, screaming, fast zombies and the action sets that could be created, he found he needed to work harder with the people and make them loveable, middling, or truly despicable. The places themselves are all part of Fleet's life and he has spent many hours plotting his own survival journey to Arundel Castle. It's awesome and he hopes the reader gets a sense of his own awe at the architecture. Fleet likes to mix a survival story journey in to bring back the raw emotion and horror of the first hours as the dead rose. As people acclimatize, this dread is often lost, plus it gives him a wide variety of gory beginnings to write for his unwitting characters.
Asked about the future of the series, Fleet says, he has a rough idea at how the story will end, but not how many novels it will take to get there. His own rule will be that if the writing starts to drag and it gets boring for the reader, then it is time to wrap it up. I personally as a reader of the series don't see much risk in that happening soon. Fleet says he has seen some series running at 20 books plus, so he knows the precedent has been set for a longer series. He emphasizes he certainly doesn't want to extend it past its natural life though.
I wanted to know what other series or books might be brewing for Ricky Fleet. He said he has lots of outlines on his computer for book ideas, but it is just difficult finding time to put finger to key around teaching and family. He has a vampire series in mind that he would like to try and also add to his Infernal demon series as well as a fantasy series which is many years down the line. He admits he is desperate to do a few standalone novels to establish himself as a broader horror writer and not just be known as the guy who wrote Hellspawn. People ask him about action, mysteries, and thrillers and he says maybe one day, just not for a long while yet.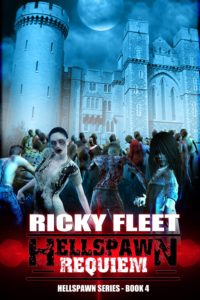 I hope I have made the case for Ricky Fleet. Check out Hellspawn Requiem now or begin with book 1. If you want to know more, check out any of the links above or read this case for Ricky Fleet from the previous Summer of Zombie tour.