by Jay Wilburn
The plan is to reread all of Stephen King's works in the order that they were published. Richard Chizmar of Cemetery Dance had the vision. I'm doing it because I am a writer and I want to improve my fiction. I think there is something to be learned through this challenge. As Richard Chizmar and Bev Vincent put up their posts on the official site, I will link those in the corresponding ones of mine on this blog, typically with the "After" posts.
You can go back and read the previous post After Roadwork or go back to the beginning for Before Carrie to follow them all through.
The next challenge and pleasure to read is Danse Macabre.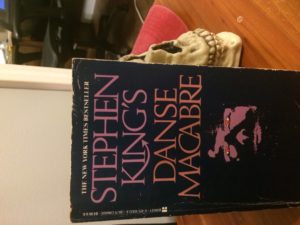 I have not read this book yet both by design and by misunderstanding. I saw it on a shelf of a used bookstore while in high school as I explored King's work at the beginning. I heard it was nonfiction and that threw me. Nonfiction felt academic and adult. It sounded boring as I had other supernatural tales right there to pick up instead. This first viewing of this book was the same visit where I bought the copy of the collected Bachman books. It was the same copy I just finished rereading Roadwork from before picking up Danse Macabre to read now for the first time.
The version of Danse Macabre in the picture above is the same printing and cover of the book I saw back then. Now I picked it up from a different used bookstore some quarter century later.
I thought it was an ancient history text. I thought it was about a figure named Danse Macabre pictured on the cover here. Never occurred to me until much later that this was a rendering of Stephen King himself. I misread the cover and thought Macabre was actually Macabee. I thought his book was about a character from an obscure history of a family and a war between the Old Testaments and New Testaments of the Bible.
I could have learned a lot from reading this. I was a sci fi and fantasy reader walking into horror for the first time. I never expected I'd be a full-time horror writer myself one day. If I read it back then as a high school student, I doubt I would have finished. I doubt it would connect with me in the way it has potential to now at this phase of my life. Maybe it was good I was too stupid back then to understand what I could have held in my hands.
I quit teaching in February of 2013 to care for my sick son and to pursue my dream of writing full-time. This past February 2017 I celebrated four years of full-time writing and I got a kidney transplant which extended and enriched my life in unimaginable ways.
After I quit, my wife bought me On Writing by Stephen King for my birthday. That would be April 2013, two months after taking the plunge. I read it like a man gasping for breath. It spoke to me and my dreams so fully and deeply.
I bring up On Writing only to say I have great expectations for what I will get from reading Danse Macabre for the first time now. I may be setting the bar high, but I'm a different person in a different place now. I know how King's writing impacts me and I learn from his musings and unparalleled insights about horror, storytelling, and writing. No matter how I high I set this bar, I feel confident King won't let me down with this one.
I have been in preparation for a long time to receive this message written and published so long ago. It's time to learn about the true things of horror with a first reading of Danse Macabre. My next post will be After Danse Macabre. See you there on that side of things.
— Jay Wilburn, writer and student at the feet of the master.