by Armand Rosamilia
This is less a blog post and more a love letter to the readers.
Now, before you go throw up in the corner, hear me out…
I owe my career to the readers. Yeah, all writers say this. I mean, it is true.
But in my case, it was the readers of the Dying Days series that made my career.
Lemme explain.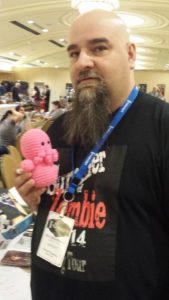 I've wanted to be a full-time writer since I was twelve. For a long time I wished and wished, writing sporadic stories here and there. I had my first actual horror story sale at eighteen. That was 1988.
Fast-forward over twenty years. Still trying to be a full-time writer. Most days just trying to sneak the time to write without life getting in the way.
Then I get the gift I've been begging for my entire life: I got a pro contract for Miami Spy Games. The money paid my bills for the next six months and allowed me to breathe a bit and start to take this seriously.
I had a million ideas in my head.
Tons of horror novels. Trilogies. Short stories. Novellas. Flash Fiction. Millions of words yet to be written.
I wrote Highway To Hell, which led directly to Dying Days in the same world.
Which led me to an epiphany: I could really do this for a living.
While the money for Miami Spy Games was very good, there was no real follow-up. A proposed sequel was tossed back and forth between the publisher and the movie people but in the end they couldn't agree on doing it.
I've since worked on quite a few movie tie-in books for them, but sometimes they're spaced months (and in a couple cases years) apart, which would've left me in a bad spot.
Thank Cthulhu you, the wonderful reader, started to really enjoy the Dying Days series. You liked my take on zombies. You liked the main characters. You asked about minor characters if they weren't in the next book and asked about their back story, which led to other books like the Dying Days: Origins books.
It led to sales.
Steady sales.
Which led to me being able to also write the other things I wanted to write without stressing (too much) about money and paying the electric bill.
I'll never be confused with Stephen King or Dean Koontz but I've managed to make a nice living off of my writing, and it really begins with Dying Days.
More than one person has asked me why I'm ending it.
I asked myself that a few times along the way, too. I'm sure if I wanted to I could write another one or two in the series every year for the next ten years.
How fun would Dying Days 30 be to read?
I don't think it would be.
I never had a real plan to end it on a certain book or worry about how it would end. I just kept pushing it back and not worrying too much.
But as I get older I realize I'm not going to live forever. I won't ever be able to write everything I have marked to write, let alone the tons of stories still knocking around in my head or the future ideas.
I often get to a point in my writing year where I revise my schedule and give it a longer game plan.
When I was writing Dying Days 6 I started to really see where the story needed to go and for the first time I didn't want to just keep stretching it forever. I wanted the action to increase and the story arc to have an actual ending both me and the readers would enjoy.
Instead of commissioning another Dying Days cover with a zombie I wanted something bigger. Something that would be a smaller piece of a bigger puzzle.
The more I dwelled on it the easier it seemed.
Nine covers. Nine pieces to the puzzle. Put together it would make a solid picture.
I enlisted the help of Jack Wallen, who I knew was up to the task of creating the perfect set of covers.
And he was. When I first saw the final covers as individual pieces and then as one big cover I knew it was the right move.
I knew Dying Days 9 would be the last book in the series.
While I'm a bit sad it's ending and I won't get to write these characters anymore in this world, I'm glad to have had the last few years to write them.
And I'm glad so many readers gave up their hard-earned money and their precious time to buy and read the series. I want to thank all of you.
Those who took the time to leave reviews. Shared the posts on social media. Told a fellow zombie reader about the series. Sent me personal messages over the years about the books and those who became more than readers but friends, too.
This last book is really for you and I hope I did it justice.
I hope you had as much fun reading about Darlene and company as I did writing them.
Now you can go throw up in the corner. My lovefest is done.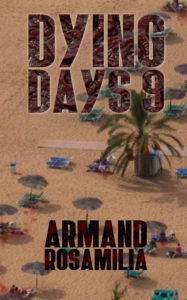 Check out Dying Days 9 or begin the series now.