by Armand Rosamilia
My knee-jerk reaction has, up until recently, to not shake the boat. Don't do anything stupid. Don't shoot the cash cow or however that saying goes.
Don't stop writing what is making you money.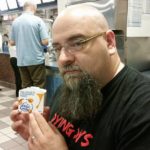 You see, about six years ago I realized I was not only going to keep writing zombie books (I think I just had Highway To Hell and the first Dying Days out) but keep them coming hot and fast. I decided I wouldn't stop until the money stopped flowing.
I was on to something. Something that helped shape my career. Writing zombie stories allowed me to write other stuff, too, and not worry as much about the money part of this career. I could focus on just writing stuff.
So I not only wrote the main Dying Days series but I also did offshoots in the same world with two books in each: Highway To Hell, Still Dying, Dying Days: Origins and Dying Days: Siege.
I have since stopped all of the secondary books, realizing too late the energy and time out into them would've been better utilized in the main series and having (perhaps) eight more books in the series.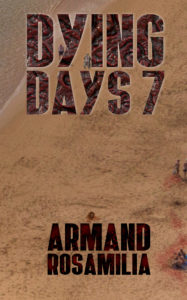 Would I be a very rich man right now if I'd been releasing Dying Days 15 instead of Dying Days 7 this month? In an alternate reality I am sitting on stacks of money, eating the finest foods in all the land and partying with MC Hammer. Oh, yeah… in this alternate reality The Hammer is still the man and gives me a pair of his sweet pants to dance in.
But, alas… dreams fade and reality beckons.
I know the end of the Dying Days story. It might not be all neatly wrapped up and tied with a bow but there is a definite stopping place in my head. A definite end to the main story I've been telling for a number of years.
The goal is simple and set in stone. Next June, during the Summer of Zombie blog tour, readers will get Dying Days 8. This time next year, in November 2017 during the next Winter of Zombie blog tour, will be the final book in the series, conveniently titled Dying Days 9.
That's it. End of story.
Kinda.
While the main story will be over and questions answered about Darlene and the survivors, there will always be the real chance I'll have more ideas for these characters… in the future.
I think it will be a good idea to take a break from writing zombie stuff. Not that I hate it or anything. I just want to write other stuff right now.
Thanks to contracts, schedules and an awesome full-time writing career, I get to call some of the shots now. I get to decide what I want to write and/or what will make me money and keep my future as bright as possible.
Of course, zombies will always have a special place in my heart because it was one of the major factors that led me to become a full-time writer and to have the blessed life I live.
A zombie author buddy of mine said something simple and true not too long ago. We were hanging out on his vast property and he was telling me about his big plans to build a huge house. Play areas for his weapons. And he was doing it and so much more.
As we stared at over fifty acres of gorgeous wilderness he owned he said, "Can you believe writing about zombies got me all of this?"
Yes. I really can believe it.
Two more zombie books to go for me. Will it really be the end? Never say never, but…
If a really cool idea hits me in the head and I can't shake it you might see more zombies from me but with so many other series I want to explore in other genres, I'd rather do something else. Something different and exciting.
I swore I'd never write solely for a paycheck. I won't start now. I'm going to work on the things that interest me.
Luckily, the next two books of Dying Days have me very excited.
And check out my latest, Dying Days 7