by Jay Wilburn
I wrote about some of this a bit in the essay that opened the Jay Wilburn's Terrible Tiny Zine Yule Time Issue that went out recently with the Jay Wilburn's Terrible Boxes of Yule Time Things. The response was good for the Christmas edition of the mystery boxes, so a good many people get to read that essay on the darkness and light that comes with the holiday season. I hope that touches a few people and that they enjoy the stories in the zine. The subject is kind of important with how people struggle with dark feelings this time of year, so I wanted to not pass up an opportunity to reach out to folks with my thoughts on finding a way through that coming darkness.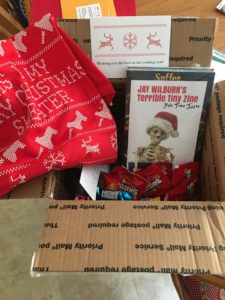 I was married in the summer of 1999 and my father died around the following Halloween. He had been on dialysis for a quite a while. He had the same polycystic kidney disease that killed my grandmother before him. It is the same genetic disorder I and other members of my family have now. He did not go for a transplant like I have begun working toward. My mother expressed at one point recently that she was upset with him for not going for the transplant. I don't know the back and forth that went on during that time. My brother and I were not included in those conversations, of course. I suspect it was an issue of money. My family was not insured at that point and money was tight. I'm sure fear played a role for my father as well. Transplants in the 1980's were not quite to the level of success that is achieved today.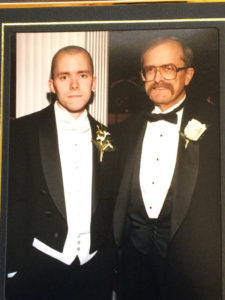 As I was taking a picture of this photo of my father and I from my wedding day, it didn't look like him to me at first. It's been a long time since I've looked at pictures of him. If this man passed me on the street today, I wouldn't even notice. It's been over 17 years. We're closing in on a time when my father will have been gone for half my life. I remember when the Diamondbacks beat the Yankees in the 2001 World Series, I thought, my dad would have enjoyed this postseason. I'll occasionally watch a show on TV and think my dad would have been impressed by this. The longer we go without him, the harder it is to imagine him as a part of this world. He was a product and a creature of the last century and he was not designed for what the world is now and where it is going. Our lives become what they are now partly because he was not here. We no longer live in the universe where he might have gone on living; we live in the one where he didn't and it has now been 18 Christmases without him. He never met my children. They exist in a different reality from him separated by a gulf of time. My mother will sometimes refer to him as their PaPaw, which was the name used for grandfather on that side of my family. It has no meaning to my kids and they can only think of the man in the abstract.
I was teaching school in Atlanta before moving to South Carolina shortly before my first son was born. It was the last day of school before Christmas break in 2001 when I turned on my phone again after school and found out my brother had died. He suffered from congenital heart defects his whole life. The kidney disease came next. By the end of 2001, he was in and out of the hospital fighting progressive organ failure.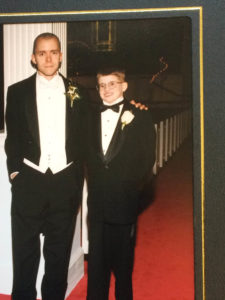 I bounced a baseball off the side of the school for a little while after the other teachers had left and before I went to face my mother. She had been holding my brother as he died. After my mother's house, we had a Christmas party scheduled with friends. I still wanted to go and I did not want it to be about the darkness. So, I asked my wife to not mention my brother's death to any of our friends while we were there. I wanted to hold back the darkness for a little while.
We went through the motions then. Inside our friend's house for that evening, death and darkness were kept outside as we pretended everything was fine. Maybe that is what we all do this time of year in one way or the other. We all have losses and we all have illnesses. We remember these things around the holidays because of who is not there and why it is different this year than previous years. With each new Christmas, that darkness can be compounded. There is more to hold back. That Christmas party the day my brother died was strange because we were pretending everything was fine, but I've done the same thing at every party and every Christmas since. We push the losses out and the darkness back for a little while so we can spend some time in the light.
The following January and February I would be diagnosed with polycystic kidney disease – the same illness that ultimately killed my grandmother, my father, and my brother. I felt pretty low for a long while. I would have my own children after that and fear they might get it one day too. It progressed slowly until now I am on the transplant list and I'm at 16% kidney function and feeling it.
I had a lot of potential live donors step up to be tested. How do you properly thank people for that? There is not a way to show enough gratitude. Lots more have sought out ways to help financially and in other ways. We heard recently that one of the donors is a good match and I will be going in January to have a preop evaluation. There are still some things that have to be ticked off, but that surgery may be happening soon. If so, it will be a whole new set of medical concerns and responsibilities. Transplant is a treatment and not a cure. There are medications multiple times a day for life that are not cheap. My immune system will be in a compromised state. A lot can go wrong, but a live donor transplant is the ideal option for where I am, so that is a bit of light to be thankful for.
It changes things this Christmas too. I'm setting up my professional projects to be closing out in the next couple weeks and over the next month. Things could go wrong, so Christmas 2016 with my family holds some greater intensity for me. It is probably and hopefully one more of many, but nothing is guaranteed in life and that is certainly not lost on me in this moment.
I'm thankful to be alive and to be here in this moment. I am quite familiar with the darkness and I quit teaching a while ago to make a living writing stories about the darkness. These are the shades and colors I use to create my pictures and to weave my tales.
I'm not telling anyone else what to believe, but I do think faith plays a role in a well-lived life whether you believe in a higher power, believe in yourself, or take a leap of faith to follow your dreams. I think we are wired to operate with an element of faith in the same way we are wired to deal with life with logic, reason, emotion, and passion too. It is a part of who we are for a reason no matter what your belief structure may be on spiritual matters. I'm not broaching this subject to argue someone into believing in God the way I do. Faith in that context works for me because I feel death and darkness as a close thing and a present danger. Maybe I'm wrong and none of that is real, but it helps me get up in the morning even when it hurts to do so. For that reason, I will hold to my version of faith without passing judgement on yours.
What I will argue is that if this time of year surrounds you in darkness, you can still believe in the light. If you walk near me through the valley of the shadow of death too, it is okay to still hope for the mountain. Even if you no longer have the energy to lift your head to see the mountain for yourself, it is still okay to believe it is there as you put one foot in front of the other. And when you walk through dark places that threaten to swallow you in endless shadows, you can still hope for the light. You can hold off the darkness and continue to move forward, believing the light is out there somewhere even if you cannot see it from where you dwell. Whether you believe in God or not, you are still allowed to hope and believe in the existence of light and a place somewhere ahead of your present darkness that is good. It is okay to put one foot in front of the other at whatever pace you can muster and believe you are headed somewhere that light exists whether it can be seen or not. If you are walking alone through the valley of the shadow of death, it is okay to reach to one side or the other for a hand or a shoulder to bear your weight for a little while until you feel stronger or more hopeful. It may be too dark where you are to see it, but there are others of us walking through there too in hope of a mountain that reaches up into the light.