Excerpt from Joe Cross by Peter Welmerink …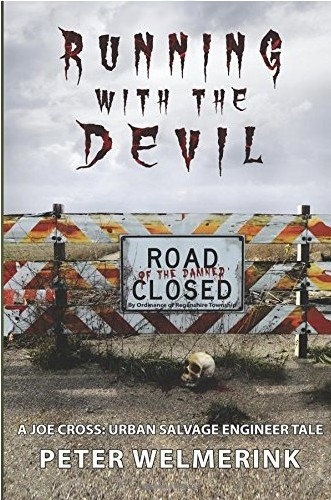 They circle his vehicle like turkey buzzards around a fresh carcass. The vultures are on the ground, human vultures, picking Lacey clean as Joe stands three steps away flanked by two hulking Reganshire men. Reganites, they call themselves.
He watches the chains, clamps and bungees come off. His gas can of drinking water: taken. Two crates of firewood: taken. Tool-box with MP5s and extra mags: taken. Pair of first aid kits—hand grenade in one of them: taken. Joe waits for some schmuck to open the hood and start pulling engine components. He feels fortunate none feel compelled to check under the vehicle.
A stick-thin guy in an oil-stained mechanics jumpsuit leans into the passenger seat. He peers about the dashboard, rifles through the open glove box that several persons have already gone through; then looks at the belted stuffed bear in the seat. With grease-stained fingers he starts to unbuckle the bear.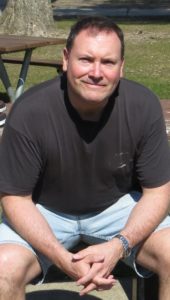 "That's one thing you're not going to want to take," Joe says with enough threat in his tone that greasy Stick Man hesitates. "That bear isn't for taking, or touching."
Stick Man flips him off, and moves to finish unbuckling the bear. A densely-packed throng of people coming towards them breaks the man from his activities.
Joe looks at the oncoming group. People swarm around a central line of others like bees to a hive while the center line marches forward in his direction. The center wedge parts the flocking bystanders. He sees half a dozen brawny men, toting machine guns, and a strange lithe form between them.
"I'm not partial to skin color," Joe says to the Reganite men on either side of him, "But that girl looks like she fell in a flour bin."
A young woman in a white shirt and tight, black, form-hugging dress slacks approaches them with her retinue of guards and onlookers. The area where her flesh is exposed reveals limbs and face so ashen she looks almost translucent. Gauze bandages are worn about both forearms, which are dappled with blotches of blood and some form of yellowish ichor soaking through the wrappings.
"Someone important?" Joe says out the corner of his mouth to the guard on his right.
"Rebecca Regan. Her and her dad run this town."
Both guards take a step back as the woman steps up to Joe.
"What do we have here?" Rebecca Regan says, stopping before Joe and his vehicle. Her eyes roam over Lacey, and then fall on him.
The pale woman gazes him up and down with gray eyes and a sneer on her crimson-lined lips. Her gums: dark, red. Her teeth: yellowing. Her blond-white hair waves behind her in a phantom breeze. A long strand—one, then two, then three—give up the fight and tumble away from her head.
Joe throws up a little in his mouth, and coughs as he swallows down the sour bile.
"We caught him in the southern quadrant in our new grazing land," a man from one of the black trucks says. "Cut into our fence and pilfered himself a sheep."
"Thief?" Rebecca says, a bare brow rises, her eyes still upon Joe.
"No, I was…" Joe begins to say.
"Spy then?" she hisses, leaning into his face.
Jesus, you need a breath mint, sister. "Not at all," Joe quickly replies, his eyes darting to the piked heads lining the town's fence line. "I'm a salvager. Came up from Chicago area, looking for work, trying to help out some folks back across the river and…"
An alabaster finger jabs in Joe's face, nearly pokes an eye. Something that looks like a piece of fat white rice wriggles from the woman's bandaged forearm. It bounces off his chest and hits the ground.
One of Rebecca's armed protectors edges a boot tip forward, and grinds the still-squirming rice puff into the concrete.
"You're helping Grand Rapids?" Rebecca says, voice rising, nearly deafening. A murderous flame suddenly burns in her eyes.
Joe knows he stands on a slippery slope. Shit, perhaps Michigan was a bad idea.
###
Book Links
JOE CROSS: RUNNING WITH THE DEVIL
http://peninsulampublishing.com/
Ebook and Paperback Novella
Coming Soon: BULL, THE GIRL WHO RULED THE WORLD, and REFUSE OR DIE
TRANSPORT Series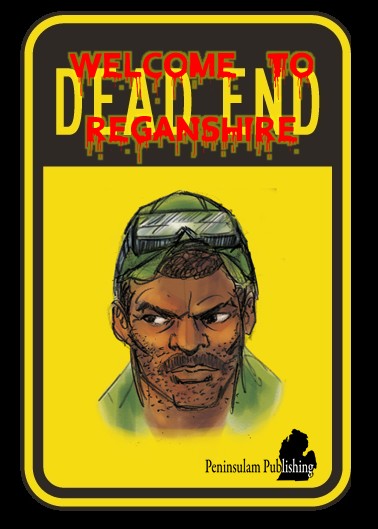 Check out Book 2 of the Dead Song Legend by Jay Wilburn.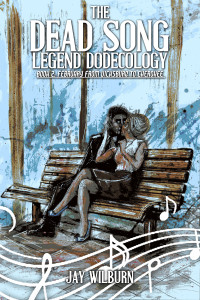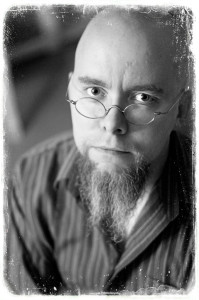 Jay Wilburn lives with his wife and two sons in Conway, South Carolina near the Atlantic coast of the southern United States. He has a Masters Degree in education and he taught public school for sixteen years before becoming a full time writer. He is the author of many short stories including work in Best Horror of the Year volume 5, Zombies More Recent Dead, Shadows Over Mainstreet, and Truth or Dare. He is the author of the Dead Song Legend Dodecology and the music of the five song soundtrack recorded as if by the characters within the world of the novel The Sound May Suffer. He also wrote the novels Loose Ends and Time Eaters. He is one of the four authors behind the Hellmouth trilogy. He cowrote The Enemy Held Near with Armand Rosamilia. Jay Wilburn is a regular columnist with Dark Moon Digest. Follow his many dark thoughts on Twitter, Instagram, and Periscope as @AmongTheZombies, his Facebook author page, and at JayWilburn.com
Or begin the series with Book 1.