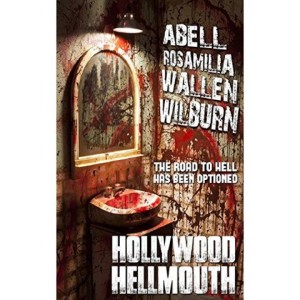 HOLLYWOOD HELLMOUTH is available in paperback now. It has the voices of four different authors blended into one novel and a voice that is all its own.
Armand Rosamalia, Jack Wallen, Brent T Abell, and myself Jay Wilburn give an interview explaining ourselves a bit.
As we passed the novel around chapter to chapter, the story took wild directions. Each author challenged the next to try to keep up. As we went through and connected the pieces of the novel tying off the loose ends, I found some great statements on our lives and the creative process. In the insane, wild ride, we each managed to find commentary and to add voice to the statements of the other authors. We revealed ideas about creativity and the obsessive nature of pursuing a dream. The weird demons and creatures that assailed our hero's journey showed how insane the forces against a creative act can become.
Hellmouth can be viewed as a piece of weird fiction and horror humor, but it also has a voice and a few things to say about horror, entertainment, creativity, business and more.
If you are going to be in Memphis for Mid South Con, come by the Hilton Memphis. Sit in on our panels. Join us on Pro Row and pick up a copy signed by all four authors. If not, go ahead and buy a copy now and see what we created. See if it inspires you to fight your own, insane demons trying to pull down your dreams.