by Jay Wilburn
Jay Wilburn: Thanks for having me over for the interview … even though it's in New Jersey. Tell everyone your name, please.
Chuck Buda: Chuck Buda, but you can call me Chuck.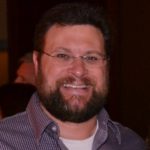 Jay: Okay, I'd like to ask about …
Chuck: I hate to be that guy, but I thought we agreed you'd be naked for this interview. It makes me less nervous if I can imagine everyone naked.
Jay: Listen, I'm not going through this again after the incident at Armand's house. New Jersey is a long drive. I can't have warrants in that many states.
Chuck: You were at Armand Rosamilia's house without me?
Jay: It's okay. I'm not invited back after Mrs. Rosamilia found out about the Wonder Woman blanket. What is your latest book?
Chuck: Caged 3 (Zombie Lockup Series)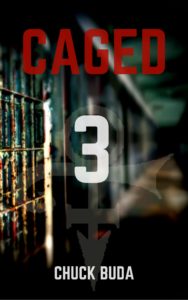 Jay: This is a wild fast-paced story. Tell us what is happening in the series now.
Chuck: In Caged 3, the desperation reaches new heights. Warden Gorgon begins his new plan for survival. But at what costs? The women in D-Pod are devastated. The men in C-Pod continue to fight back against the Warden and his top enforcer, Muncie. Complicating matters, more people become infected within the walls as the zombies outside get closer to the prison.
Jay: Tell us about this cast of characters?
Chuck: Caged 3 features an ensemble cast of characters all bent on survival. The proto-typical inmates appear commonplace on the surface until they are forced into the cold, cement corners of the prison. However, the three main characters are Jack Turk, Warden Gorgon and Muncie. Jack Turk is serving a life sentence for killing a man. Jack is the alpha male of C-Pod. He feels a sense of responsibility for his fellow inmates even though he loathes and mistrusts most of them. Warden Gorgon is a tough disciplinarian. And keeping his prison in tip-top shape is priority #1. Muncie is the head Prison Guard. As the Warden's right-hand man, Muncie is tasked with carrying out the Warden's wishes. And the Warden turns a blind eye to Muncie's sadistic methods.
Jay: Your zombie situation is a bit different, isn't it?
Chuck: My zombies are different for several reasons. First, the zombies in the story bring a supernatural element to the genre. Adding another layer of control (or lack thereof) heightens the tension of the plot because the reader doesn't know what to expect of the zombies. Second, my zombies rot only partially. Without spoiling the plot lines, I created an avenue for the undead to last longer. Again, this heightens the suspense as the reader wonders if the creatures could ever be killed or stopped. These two aspects propel the story forward. The reader is compelled to find out what could possibly happen next. Finally, my zombies embody a mix of fast zombie/slow zombie mechanics. It all depends upon … well, you have to read the series to find out why.
Jay: What do you hope readers take away from this experience in the Caged books.
Chuck: I hope folks enjoy the Zombie Lockup Series for what it is. A fun, fresh story line with everyone's favorite monsters. There's no hard science or nods to Romero. Caged 3 is a horror story written with a thriller pacing. Pure escapism. Forget your bills and those idiotic co-workers. Just nestle into a darkened, chilly space and feel the prison walls closing in around you.
Jay: Tell us where people can find you. Talk about yourself in third person. And try to speak in hyperlinks, if you can.
Chuck: *clears his throat*
Follow Chuck on Amazon
Follow Chuck on Goodreads
Follow Chuck on Twitter
Follow Chuck on Facebook
Follow Chuck on Instagram
Follow Chuck's blog and newsletter on his website
Jay: That was excellent hyperlink. You had hardly any accent. Let me try … pick up Caged 3 or begin with book 1 and move on to Caged 2.
Chuck: Very good. Now get out. *Turns on an episode of Catfish and wraps up in a Wonder Woman blanket*
Jay: Where did you get that blanket?
Chuck: Armand mailed it to me.
Jay: *Leaves into the smell of the New Jersey night*