Spotlight On interview with Kathy Dinisi
author of the Hellbound series
Summer of Zombie 2016
Q: What's your name?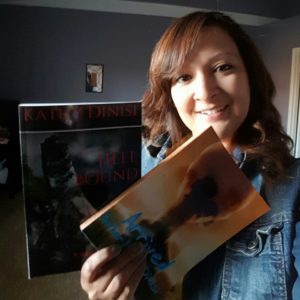 Q: What is your latest release?
Hell Bound ( Till Death do us part)
Q: Describe the book for us.
Sam and Mathew have come so far to receive the bad news that the safe haven is no longer safe. No one can tell them where their kids are.Trained soldiers have retreated all are to scared to fight against the raging zombies. A stranded Soldier offers them his help to find there family but will it be enough to fight all the obstacles in their way? Can Mathew and Sam survive their last journey?
Q: Who is the story about?
The main characters are Mathew and Sam, a married couple that are trying to fight their way back to their children.
Q: What distinguishes your story from others in the genre?
The zombies are getting smarter, a lot smarter at each passing moment. The story between my characters is a love story.
Q: What do you want readers to get from your story?
I hope readers can escape their everyday busy life just by reading my books.