by Jay Wilburn
Armand Rosamilia's reputation and work as an author precede him. Making the case for him really comes down to just convincing you to pick up a book. His Dying Days series is a milestone in the zombie genre and with book 9 closing off the series, it's a complete work for fans to enjoy in its entirety. His Dirty Deeds series shows his power in writing crime fiction. If you enjoy his voice, you will love these books as well. Readers should also check out The Enemy Held Near and Keyport Cthulhu and the rest of the titles in his vast catalog of work. I wrote this post just as Dying Days 9 came up for preorder.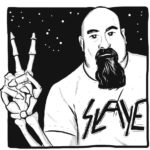 With Dying Days 9 done, I wondered if he saw the same vast evolution in the series from beginning to end that I did. I was also curious about how mixed his feelings were in seeing this hallmark of his career come to a close. While the seeds are there in Highway to Hell. He says, there is no way he could've ever guessed where it would end and how radical the zombies and the world would be. It's scary, to be honest, he admits. Dying Days was always the next book he knew he had to write. No matter what else he was working on, he knew he had the next one on the horizon. Now, knowing that was it, was like losing the safety net for the career. And a bit sad, too.
The Dying Days universe goes back to the beginnings of his writing career. I asked him about the changes in him over that time as an author. He said, the dream was always to be a full-time author. To never have to work a job where he had to sneak in writing. Some days it blows his mind that he writes for a living. And a decent living, too. He still has nightmares where he's suddenly a retail manager or selling shoes again after six years of not doing it and he has no clue what to do. His future is more of the same: write every day, enjoy his freedom and life and build the Project Entertainment podcast network. Today, he said about the day we spoke, he took his wife to lunch and then went to a used bookstore and hung out. On a Monday! Keep your dreams alive writers and readers.
I've been to Rosamilia's house. I've recorded podcasts there, eaten tacos, watched murder mysteries, prepared for conventions, and stolen M&M's among other crimes. He has a board in his writing space which spells out projects in progress, ones on the backburner, books coming up, and pie-in-the-sky ideas. I asked him to share a few things that might be on that board as of the time I wrote this post. He's working on a third book with super-sexy Jay Wilburn, he's finishing his nonfiction baseball book, Dirty Deeds 5, and a bunch of Patreon-only stuff like new short stories and ongoing novels like Dying Days YA, Plan C, Bad People, and a few more surprises you won't read anywhere else!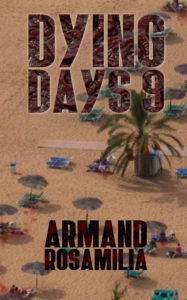 I hope I have made the case for Armand Rosamilia. Check out Dying Days 9, begin the series now, or check out any of the work under the other links above. If you want to know more about Armand Rosamilia, check out this "case for" post from a previous tour.