by Jay Wilburn
There was a time that I struggled with readings. I struggled with reading when I was a kid in school too, but that's not what I'm talking about here. I struggled with "readings." This is where an author stands or sits in front of an audience of varying size at a convention, a bookstore, a bar, a brewery, a library, or some other location and reads a selection from one of his or her works. If you are a big name, people might clamor to hear a couple paragraphs from chapter three of book 4 in your series. If you're less well known, then not so much.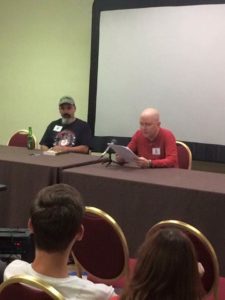 I discovered a few things through the process of doing readings. People get bored fast. Even people who love your work get tired of being read to after a few minutes. Your friends and family get tired of hearing you read. At conventions, it helps to do shorter readings with a q&a session afterward. Still, some people try to sell their book by reading a section. That section can get long, if you are trying to deliver enough to give context to the actions and characters. A novel meant to be enjoyed and understood over a span of chapters is hard to encapsulate with any one scene. You don't want to spoil a great death or a huge plot point, so you end up with some scene robbed of all its background.
I started looking at presenting writing as more of a sell of the author than the particular works. A reader/ listener who buys into the author is more likely to pick up a book after a reading. I started looking at readings as a performance meant to entertain and draw listeners into my space rather than convincing them that the book in my hand must be read.
I began writing pieces specifically for readings. One of these early attempts was a Noir at the Bar event. These are done all over the country and usually bring in crime fiction writers. I am more of a horror writer, but I took the invite to one in a state adjacent to where I live. I wrote a short piece for it called "Hot Line." It was transgressive and involved the reader being interrupted by phone calls. The audience hears one side of the conversation. It slowly turns out that the phone calls reveal the crime between the bits of narration. The story includes insulting evaluations of the audience and the state where the story is being read. It messed with the audience and let them in on the joke. It took less than five minutes to read and then I passed the audience off to the next reader.
There were other good ones, but another successful one was at Scares That Care one year. I wrote a piece called "What She Said." I am selling zombie books, so it includes zombies and irreverent humor similar to the characters in my series. I was giving the audience a sense of my voice and selling myself as an author before the series. The story mixes violence with some juvenile sexual innuendos. The setting, the names of the characters, and the description of the action were all part of the joke. The audience is slowly let in on it and then we run with it together. The action turns a little dark in the middle so that listeners were pulled in two emotional directions. Then, we race to the finish. Again, asking five minutes or less of their time. I sold a lot of books after that. I now like to have readings earlier in a convention, if I can get the spot.
Art is a bit of a performance even if it is not a direct face to face interaction between the creator and the audience. It may be bold to call zombie stories art, but the same principles apply. No matter how meaningful and well-written our stories may be, they are also meant to entertain. Entertainment, especially for a zombie fan or horror fan, can be dark, bloody, and visceral, but that is still part of the performance.
I recommend storytellers, even in the written form, remember to use the stage. Characters can be placed in plain grey rooms and they can travel across nondescript landscapes. It doesn't hurt at all to give them a world and a setting to act upon though. Let the characters use the space and let that interaction with the set, the props, and the other characters shape and fill out that story. If survivors are hiding in the mountains, let's see that play into how their survival is different from other books. Make it part of the threat or part of the salvation experience of escaping death. If they are trapped in a city and fighting their way out block by block, let's see those blocks, the destruction, the shadowy spots, and the blind corners which matter. Make me feel the danger of this war between the living and the dead in this urban nightmare. Surprise me with how the stage and the arrangement of objects upon it divert and shape the action. I want to feel that dead run through this scene as we struggle with the characters to survive.
Writers pick the places they set stories for a reason. Maybe it is the town or environment they know. Maybe it is the setting they haven't seen used before. Use it. Entertain me. The authors of the Summer of Zombie Tour 2017 have done great things with the stage for their individual stories. You will see survivors in fascinating places, dealing with zombies in environments you are not accustomed to in other books. We have authors who have chosen unique settings and describe them well. The characters in these books perform for you and the stage matters to these stories. These storytellers do a good job of selling their voices and producing great stories for you to check out. See for yourself how they use the stage.